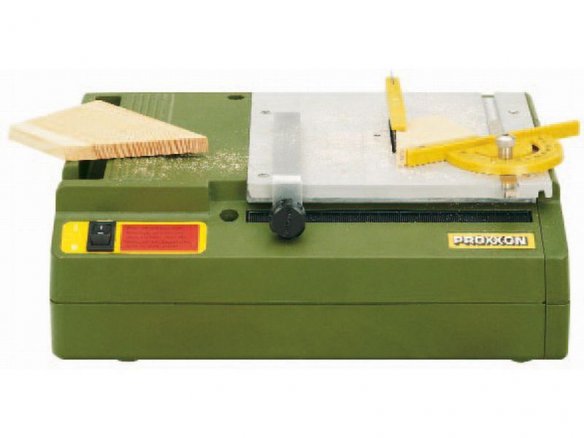 ABS plastic housing with a sliding side door allowing easy removal of sawdust; machined, die-cast aluminium table 160 x 160 mm, quiet high performance motor tested for prolonged use, saw blade shaft runs is equipped with a ball bearing, receptacle (arbor) for 50 to 58 mm saw blades with 10 mm bore, purging nozzle with adapter for a vacuum cleaner. Operating voltage: 230 V Rotary speed: 5000 rpm Output: 85 W Cutting depth: max. 8 mm (with saw blade ø 58 mm) Total size: approx. 240 x 180 x 80 mm Weight: 1.8 kg The accessories that are included: Super Cut saw blade, 80 teeth, ø 58 mm, th=0.5 mm, for wood, plastic and Pertinax Parellel stop with scale Mitre stop with graduations Split pin Allen key
The bench circular saw KS 230 is the beginner model from Proxxon which has a machined table and includes the guides for the length and mitre stops. Power is transmitted by a spindle in a ball bearing which is turned by a toothed belt (housed in a sturdy casing) which is connected to a quiet, long-lasting motor. This construction ensures the right blade speed for the job with a doubling of torque and adequate cutting depth.
The machine cuts woods up to 8 mm, plastics (Pertinax as well) to about 3 mm and non-ferrous metals to about 1.5 mm. The machine comes with a Super-Cut blade that can cut soft woods up to 8 mm. In the interest of a cleaner, safer workplace you can attach a vacuum cleaner to the purging nozzle in the housing.
Proxxon circular table saw KS 230, incl. accessories (27006)