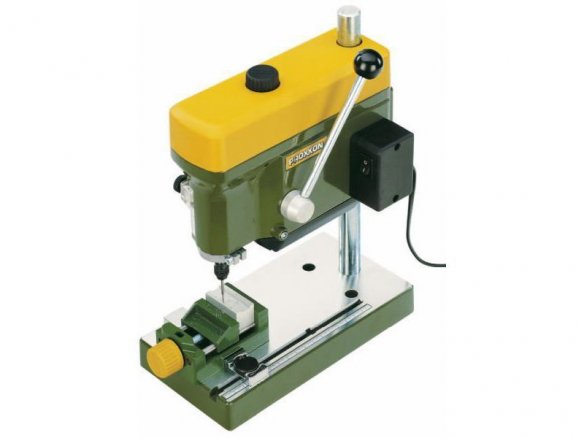 machined worktop of die-cast aluminium 220 x 120 mm, parallel fence with scale; solid hard-chromed steel column 20 x 280 mm, die-cast headstock with reamed guides and fittings, extremely quiet motor with long life expectancy, driven by three-step aluminium pulley with flat belt, practical adjustable depth gauge , 3/8" threads in spindle for a key type drill chuck power supply: 230 V revolutions per minute: 1800, 4700 and 8500 rpm power output: 85 W chucking capacity: 1.0 - 3.2 mm (with drill chuck 6 mm) spindle sleeve stroke: 30 mm throat size; 140 mm (inner column to drill spindle center) accessories included with delivery: 6 precision steel collets for shaft sizes ø 1,0/ 1,5/2,0/2,4/3,0 und 3,2 mm
The bench drill TBM 220 is equipped with everything that a bench drill must have no matter what its size. The machined worktop with its parallel fence allows the MACHINE VICE MS4 to be locked in place.
By means of moving the flat drive belt, three different spindle speeds can be produced (1800, 4700 and 8500 rpms) and this includes triple torque at the lowest speeds. The steel collet chuck which is included can accommodate drill diameters of 1.0/1.5/2.0/2.4/3.0 und 3.2 mm. In order to make changing the drill bits easier and to implement drill bits with 0.5 to 6.0 mm diameters, you can use the R÷HM RING GEAR CHUCK instead.
Proxxon bench drill TBM 220, incl. accessories (28128)