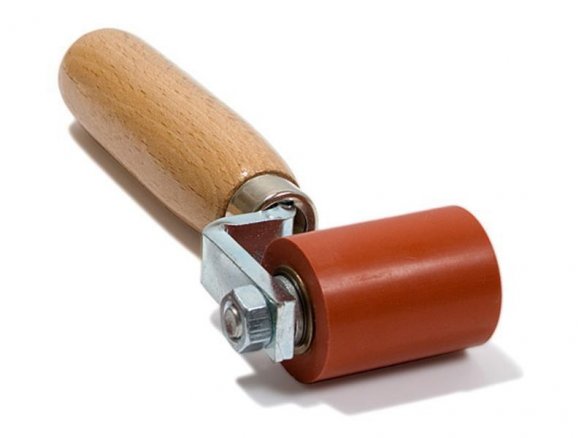 Roller made from solid silicone, waterproof and limited oil resistance, brass core with steel hubs, very sturdy flat steel frame, galvanised, beech handle with transparent varnish, weight is 220/347 g
This sturdily built roller is the right choice for the professional and bubble-free affixing of self-adhesive film as well as ink-jet prints, photographs and paper when using either spray adhesive or double-sided adhesive film. The weightiness of the roller itself makes any affixing that much easier and the very sturdy frame, which has a brass roller bearing screwed into it, can withstand a great deal of pressure without coming apart. The version with a bearing only on one side allows one to get all the way into those corners that the two-armed roller can´t reach. The roller covering, which is made of solid silicone, can be cleaned with water without problem and any remaining glue is easily removed from such a surface.
Hints as to how to affix things with the help of the roller used in conjunction with spray glue or, alternately, how to apply double-sided adhesive film with the roller can be found under the headings "Uses" and "Treatment" which appear under relevant products (see, for example, KAPA LINE) or in the general information under "Paper, Cardboard, Paperboard" (not yet in English).
Pressure roller, professional, w=45 mm, ø 33 mm, one-armed