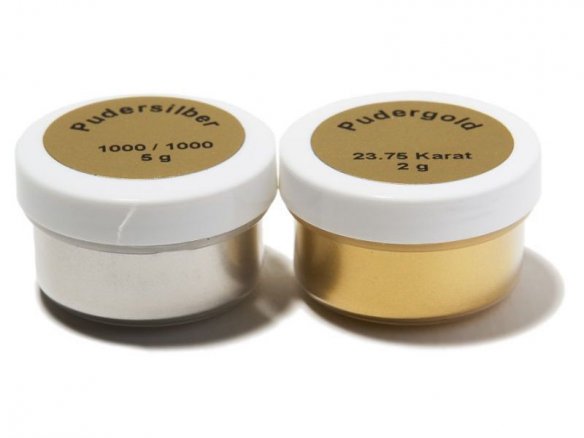 real gold or, as the case may be, silver powder, silky lustre, lamina shaped, app. 8 µm, comes in plastic container with screw lid
The powder gold is taken up and applied with a soft, fine-haired brush – a SHAPING BRUSH is the perfect choice. For larger areas, an AIR BRUSH should be used. When working either by hand or with an air brush, an UNDERCOAT and an ADHESIVE COAT must be applied to the intended area before applying the powder. For the final polishing of the surface, AGATE POLISHING STONES are particularly effective because they also flatten the microscopically small gold lamina and thereby increase their adherence as well as shine.
That our powder gold has a weight of 23.75 karat means that it can be used both indoors and outdoors. Its durability is such that no finishing varnish is necessary. Powder silver is likewise weatherproof but does oxidize both indoors and outdoors and must, therefore, always be varnished if that oxidized look is not desired.
Powder gold and powder silver are both good for working in tight, difficult to reach areas like, for example, stucco decorations on ceilings or very complicated picture frames and is mostly used for touch up and icon work.
For an area without difficult to reach areas or many recesses and hollows, 4 to 6 grams of powder gold or powder silver are needed to cover approximately 1 square metre. Powder gold can be used in combination with GOLD LEAF and SHELL GOLD when they have the same karat value. Powder gold and powder silver are not toxic but you should nonetheless avoid breathing in the extremely fine powder (particulate matter) for the obvious reasons.
Powder gold/silver
2 Variants