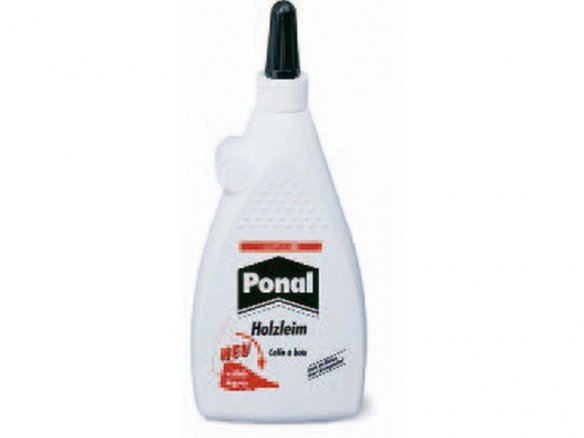 water-based wood glue (white glue), solvent-free, at 20 °C leave open maximum 15 minutes, translucent when set, short term water resistant (D2), uses approx. 150 g/m², application pressure must be at least 15 N/cm² (approx. 1.5 kg/cm²)
Ponal is the name of a water-based white glue for bonding wood, wooden materials and HPL (high pressure laminate) materials. Its classic uses include mounting work (dowel, tongue and groove, etc.), bonding joints (solid wood, slats, etc.), two-dimensional bonds (e.g. HPL panels) and handicrafts work with paper and cardboard.
This glue should not be worked with at temperatures under 7 °C and should be stored in a cool place that will not freeze. In order to assure being able to use every drop, the bottle should be stored on its side (there is an extra bulge on the bottle for balancing purposes). It has been our experience that Ponal can be washed out of most textiles using normal detergent at 40 °C.