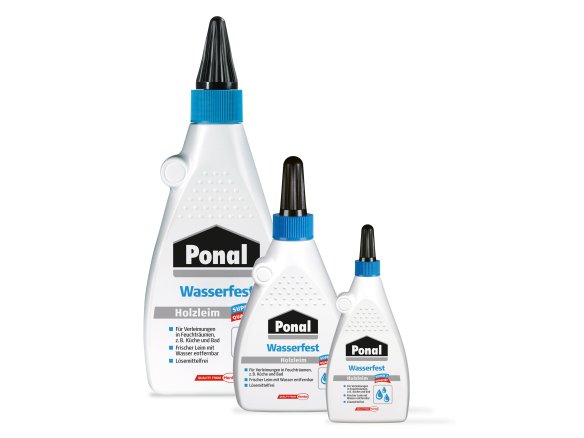 water-based wood glue (white glue), solvent-free, at 20 °C leave open for maximum 10 minutes, translucentwhen set, conditionally waterproof (moisture resistant, D3), uses approx. 150 g/m², application pressure must be at least 20 N/cm² (approx. 2.0 kg/cm²)
Description
Hazard warnings
Ponal Super 3 is a conditionally waterproof wood glue for indoor and outdoor mounting work as well as for bonding prefabricated parquet. This white glue should not be worked with in temperatures under 6 °C and should be stored on its side by employing the special bulge on the bottle provided for that purpose so that its total contents can be used up completely.
In contrast to Ponal and Ponal express, it is our experience that Super 3 will not really wash out of clothes. The glue becomes hard in the wash and remains stuck to the textile.
Danger, Aluminiumchlorid, basisch = 1- < 3 %, (VOC-Gehalt = 0,0 %), Schwere Augenreizung, Kategorie 2
Hazard warnings
H319: Causes serious eye irritation.
Safety instructions
P102: Keep out of reach of children.
P280: Wear protective gloves / protective clothing / eye protection / face protection.
P305+P351+P338: IF IN EYES: Rinse cautiously with water for several minutes. Remove contact lenses, if present and easy to do. Continue rinsing.
P337+P313: If eye irritation persists: Get medical advice / attention.