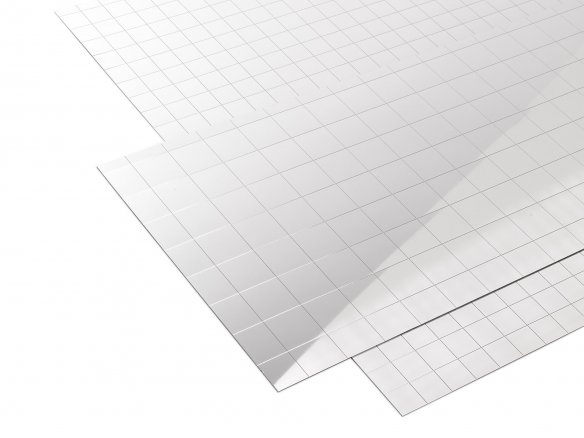 configurated in 20 x 20 mm squares, flexible, impact-resistant, front side with protective film
Mirrored polystyrene is a reasonably priced and easy to work with alternative to mirrored glass or acrylic. The squares making up this material were achieved by placing a sheet of mirror polystyrene on one side of a two-sided adhesive film and then cutting the individual squares. In this way the material loses all cohesion but gains a great deal of flexibility.
Attributes: The quality of the product on offer corresponds to the German construction material class B2 – normal combustibility - and it is therefore not allowed to be used in public buildings or exhibitions.
Application: The flexibility of the textured polystyrene mirror strips, in conjunction with the self-adhesive reverse side, make this product ideal as a facing material on curvilinear surfaces such as columns or the like. It is mostly used for decoration, interior decoration, jewellery design and handicrafts purposes.
Polystyrene mirror, self-adhesive, 20 mm squares
2 Variants
245 mm × 490 mm
490 mm × 980 mm