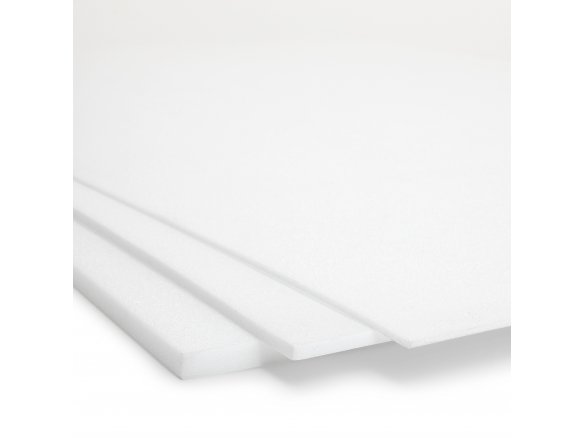 Easy and quick thermal saw
No breakouts at the cut edges
For aircraft and architectural model making
Perfect for work models
Easy to glue
Board core

fine-pored insulation board made of extruded polystyrene hard foam

Surface

smooth (trimmed)

Properties

very pressure-resistant (high density)

Edges

straight
Originally produced as interior insulation panels, the light polystyrene rigid foam panels in 3, 5, and 10 mm are also an ideal material for model making and decorations.
In architectural model making, you can use the easy-to-use white plates in the scales 1: 100 to 1:20 for the representation of interior and exterior walls, as well as for layer models. Airplane modelers use the plates, which are precisely cut to thickness, to produce flight models with excellent flight characteristics.
Processing:The smooth lightweight foam sheets are excellent with the thermal saw or the cutter. In contrast to expanded material (styrofoam), extruded sheets do not crumble because of their closed pores. This is especially true if you use the cutter to pull the blade flat through the material. In addition, you can punch the plates, deep-draw them and print them with a plate printer. The fine-pored polystyrene hard foam can be sanded with sandpaper, with Tesa all-purpose adhesive, and with styrofoam-compatible colors like acrylic colors or paint and spray on tinting colors (e.g. Aerodecor).
Polystyrene hard foam, white, trimmed
3 Variants