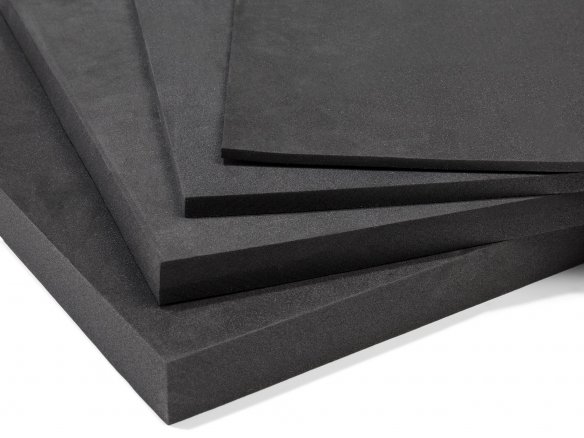 The closed-celled soft foam made from polyethylene is known for its excellent heat insulation, its elasticity and its tensile strength (> 0.22 N (Newton)/mm²). It can be utilized in temperatures between -40 °C and +95 ° C. The amount of water it absorbs is low at 4% Vol(ume) after 28 days. Upon inquiry, we can provide more detailed information about the technical attributes of PE soft foam.
Everyone is familiar with the polyethylene soft foam that serves as the ISO (sleeping) mat at the campgrounds. It has, however, many other uses: in the automobile industry it is used for interior lining or weather stripping, in construction for hot and cold insulation; as sole inserts in shoes, as a buoy, as an elastic layer under artificial turf in sports stadiums and of course as a packing material.
PE soft foam can be cut with a band saw or a circular saw; thinner versions can be cut much better just using a blade or shears. For punching or stamping work it is best to use a strip steel die-cutter. This soft foam is also easy to mill, bore or sand – it can even be embossed! The PE foam can be re-shaped by itself or in combination with suitable foils or textiles utilizing the vacuum compression or the compression moulding die processes. For gluing, it is best to use a contact adhesive like Pattex.
Polyethylene soft foam, anthracite
12 Variants
5,00 mm
10,00 mm
20,00 mm
30,00 mm
400 mm × 500 mm
650 mm × 1000 mm
1000 mm × 2000 mm
Note
The surface of this soft foam sheet is very sensitive, which means that we cannot guarantee that its appearance will always be consistent.

We can only ship oversized and transportation sensitive goods per forwarding agency which means that there are higher shipping and handling costs.