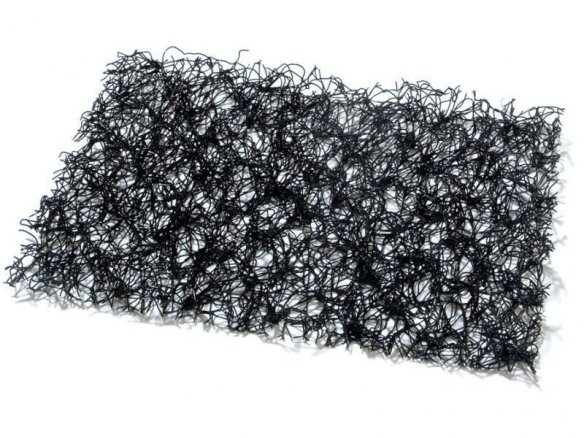 polyamide monofilaments fused together where they cross creating a humpy profile; tensile strength 1.9 KN/m², mass per unit area 400 g/m², non-toxic, chemically neutral, highly weather resistant, temperature resistant from -30 to +100 °C, normal flammability as per DIN 4102 B2 (German industrial norm)
This wiry mat was originally developed for use as protection against erosion when used in conjunction with plants on embankments, river banks, ditches or canals. As a synthetic root system, it is also suitable for use in planting roofs and has been used in the middle strip of freeways to secure the plants. The three-dimensional structure consists of so-called "monofilaments" – i.e. individual fibres which are laid one upon the other in a fairly random manner and fused together where they cross. For the production of the fibres, no metal is used but rather a thermoplastic polyamide (PA 6) which can melt for purpose of permanently fusing the cross points.
For designers and interior architects these mats are primarily interesting as decoration material. They can also be creatively used in the field of lighting construction. In such cases the structure of the mat can be easily cut to the required shape with a sharp scissors. The fact that the underside has a flat and closed structure means that the mat is easy to attach to other types of materials.
Polyamide monofilament mat, one flat side, th = 18 mm, w = 1000 mm, black
Note
Minimum order amount for material that comes in rolls: 0.5 running metre. Please note that no exchange is possible in the case of products cut from rolls and pre-cut pieces.