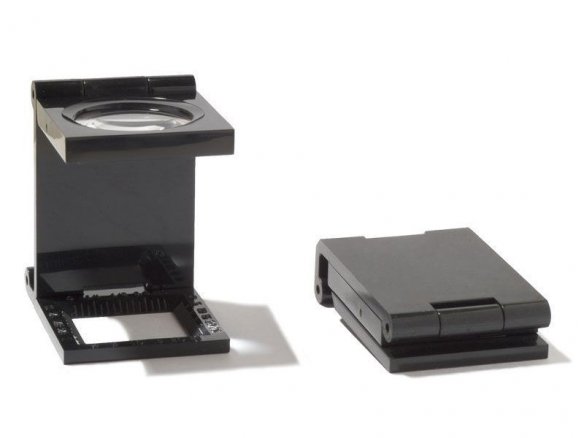 black plastic, double-convex plastic lens ((ø 30 mm), collapsible, h = 54 mm (when opened)
The thread counter consists of a strong loop which is located across from a cut-out with a measuring scale with a millimetre graduation. In the textile industry it is used to count the number of warp and weft threads per square centimetre in a fabric – hence, the name "thread counter". In the printing and publishing industries this tool is used to monitor the thickness of lines or the quality of a print.
For those who seldom need a thread counter, the more basic version with the plastic housing and lens is a more appropriate alternative. If, however, you will be using it a great deal, we recommend that you purchase the higher quality thread counter made out of metal with a glass lens. This version is distinguished by its better image quality and a much more robust construction.
Plastic thread counter, window is 25 x 25 mm, 5x magnification