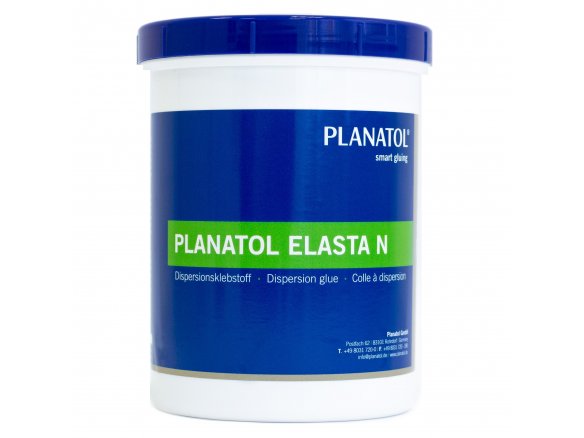 half glue/half synthetic resin dispersion adhesive for paper and cardboard, solvent-free, pH value approx. 7, translucent when set, hard, limited extendability, water soluble
Planatol bookbinding glue is a special adhesive for gluing paper, cardboard and paperboard. Depending on the job, it can be used unthinned or thinned or mixed with starch paste or cellulose paste. The mixing of bookbinding glue and paste glue produces an adhesive that is excellent to work with: even a small amount of bookbinding glue has the effect of making the paste glue insoluble, of making it become sticky more quickly and of preventing the material being worked on from becoming warped or wavy. It is also true in the reverse: bookbinding glue is a lot easier to spread if a small amount of paste glue is added to it: it dries more slowly and the bonding of the work pieces also takes place more slowly. Paste glue can be used as a thinner instead of water.
The bonding of paper materials with aqueous adhesives – especially surface layer bonding – is not an easy matter but, when done properly, it does produce very nice results. There is always the danger, however, that layouts or posters will end up being glued to what have become irreparably wavy or warped carrier materials if you are not careful. There is an excellent introduction to the techniques of bookbinding written by Franz Zeier called Books, Boxes & Portfolios (in our shop in German but available in English as well in the internet). Our chart depicting the possible uses of various adhesive mixtures and the best mixing ratios for certain jobs is based on this book.
FYI: there is a simple recipe, which is described by Franz Zeier, for making starch paste yourself using wheat starch flour. Cellulose paste glue, which can also be used for thinning Planatol BB, is basically just our wallpaper paste.
Attributes: Planatol Elasta N is an aqueous, solvent-free dispersion adhesive with a measure of starch added. It cures to a hard, slightly extensible film that retains no stickiness after curing and is water-soluble.
Application: Planatol Elasta N glues untreated paper, paperboard, linen and other book cover materials to themselves, to plastic films covered with fabric, natural fibre fabrics, wood, chipboard and fibreboard or with other absorbent materials. The main sphere of use for Planatol Elasta N is large area adhesions like, for example, gluing the backing for a water resistant painting or mounting maps or photographs. In addition, this viscous paste glue is used for various manual bookbinding tasks where bonding work on thick paper or thin paperboard is required. The fact that the resulting film of glue is water-soluble means that after curing you can still make corrections if necessary. Bonding work on plastic or completely printed paper materials is not possible with Elasta N. For such work we recommend that you make a mixture by adding Planatol AD 94/5 or just use that product by itself.
Treatment: Planatol Elasta N is ready-to-use. You can apply it manually with a brush from the jar or thin it with up to 30% water, whereby, it should be noted, its drying time will be longer. Check the chart to see its various areas of application. After use, tools can be cleaned with cold water. We recommend that this product be used within six months.
Application possibilities for adhesive mixtures:
| | | | |
| --- | --- | --- | --- |
| Application | Glue type | Paste glue | Bookbinding glue |
| Thin paper on paper, paperboard, cardboard | Starch paste glue | 100 % | - |
| Medium thick paper (80 - 120 g/m²) on paper, paperboard, cardboard | Planatol Elasta N + starch or cellulose paste glue | 4 parts | 1 part |
| Thick paper (120 - 150 g/m²) and book cover fabric on cardboard | Planatol Elasta N + starch or cellulose paste glue | 1 part | 1 part |
| Thin paperboard (150 – 300 g/m²) on paperboard, cardboard, wood | Planatol BB/Elasta N + starch or cellulose paste glue | 1 part | 4 parts |
| Paperboard and cardboard on paperboard and cardboard | Planatol BB | - | 100 % |
| Paper, paperboard, cardboard on plastic and smooth surfaces | Planatol AD 94/5 B | - | 100 % |
| Large photos (normal paper) on cardboard, fabric, plywood, chip board | Planatol Elasta N | - | 100 % (wet the backside of photos with water) |
| Large photos (PE paper) on cardboard, plywood, fibreboard, chip board (also plastic coated) | Planatol AD 94/5 B | - | 100 % |
Planatol bookbinding glue Elasta N, plastic jar 1050 g