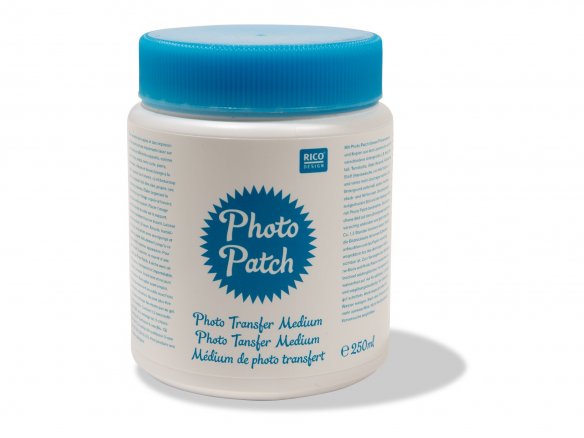 Application

transfer photos onto different substrates

Material

acrylate-base

Attributes

lightfast, odour-free, resists yellowing

Substrates

for wood, metal, glas, porcelain, ceramic, stretch frames and cloth (hand wash!)

After drying

satin finish, waterproof and transparent

Picture requirements

mirror image of picture or laser printer print
Photos on your favourite objects with a vintage look! The photo transfer medium fixes the motifs from photos and prints from a laser printer onto different substrates and simultaneously gives them a vintage look. In order to familiarize yourself with the transferring process and the material used, we recommend that you practice a few times before getting down to the serious work!
This is how its done:
1. Choose a motif and an object upon which your picture will then be attached. Possible substrates include wood, glass, porcelain, metal, stretch frames, ceramics and cloth (only washable by hand).
2. Create a mirror image of the picture using an image processing application on a computer. Print the mirror image of your picture with a laser printer (motifs printed with an ink-jet printer will smudge and be blurry).
3.Apply the Photo Patche Photo transfer medium to the top side of the image as well as on the clean, grease-free and dust-free substrate of your intended object. Place the coated top side of the image onto the coated substrate. Now your image will be back to its original format (un-mirrored, if you will!). Apply some pressure to the image and smooth it out. Any excess Photo Patch medium between the layers can be carefully put back into the Photo Patch container. Please make sure that no Photo Patch medium ends up on the back side of your image.
4. After allowing it to dry for 1.5 hours, take a sponge (e.g., a standard dishwashing sponge or a natural sponge), moisten it and carefully rub the paper layer away until your motif becomes visible.
5. In order to seal the image, apply another coat of Photo Patch. This will give your surface a satin finish and make it waterproof.
Photo Patch, photo transfer medium, 250 ml