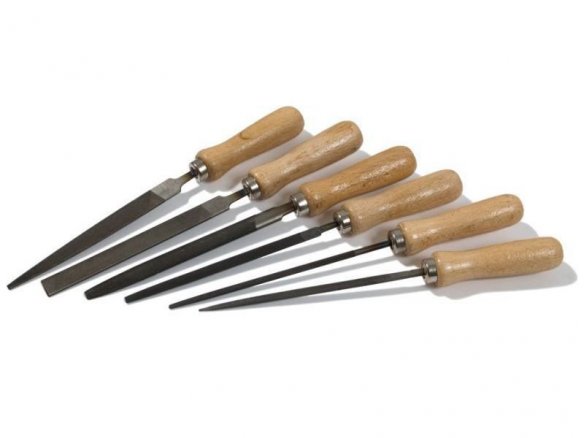 top quality key files from Pferd
uniform width and depth of cut
precision file shape
set contains the following profiles: hand, flat, three-square, square, half-round, round'
Handle material

open wooden handle

Length without handle

100 mm

Lash

Cut 2 (according to DIN 8349)
Key files are small files that are designed to be used for light and delicate work. They are mainly used in tool and mould production but also can be very practical for model making work. We have on offer a selection of the most commonly used file profiles which are suitable for use on steel, NE metals, wood, plastic and many model making materials.
The given cut number is a reference number pertaining to the number of cuts (teeth) per centimetre of file length. A 100 mm long file with a cut of 1 is courser that a file with the same length with a cut of 2. For choosing the right cut number, one rule applies: the harder the material to be worked on, the finer the cut should be. The reason for this is that an early dulling of the file can thereby be avoided.
After use, the teeth on the file surface must be carefully cleaned with a file brush because, if the file dust is allowed to remain in the ridges and to oxidise into place, the file will be much duller when next used.
The precisely made Pferd key files display really high quality with their even cut depths and densities and offer top and continuous performance even after many uses. The exact shape of each file makes really clean work results possible.
Pferd key files
3 Variants