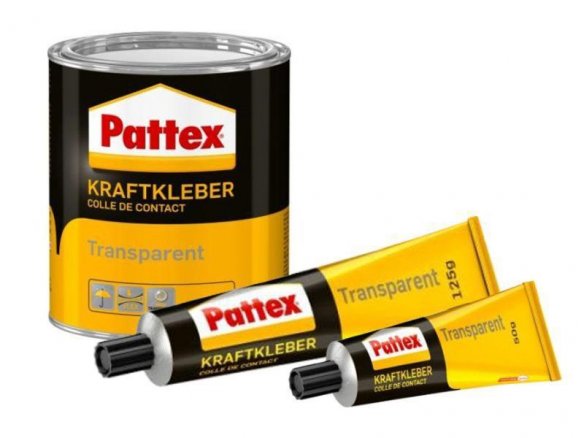 contact high-strength adhesive, contains solvent, transparent, temperature resistant from –40 to +70 °C, water resistant, plasticizer resistant, flexible
Description
Hazard warnings
Pattex Transparent is not as temperature resistant and does not completely attain the same adhesive strength as Pattex Classic but it is, to a great extent, waterproof and resistant to aging and thinned acids and lyes.
As far as use and processing it is the same as PATTEX CLASSIC; it does, it should be noted, also attain particularly high bonding strength when used with many thermoplastics (except for PP, PE and polystyrene foam) as well as with soft plastics (SOFT PVC) because Pattex Transparent is plasticizer resistant. Because of its being transparent, it is of course especially good for making transparent adhesive joints as well as planar bonds with transparent plastics.
Danger, Aceton = 60 - 80 %, n-Butylacetat = 10 - 20 %, (VOC-Gehalt (CH) = 83,3 %), Entzündbare Flüssigkeiten, Kategorie 2, Schwere Augenreizung, Kategorie 2, Spezifische Organ-Toxizität - bei einmaliger Exposition, Kategorie 3
Hazard warnings
EUH066: Repeated exposure may cause skin dryness or cracking.
H225: Highly flammable liquid and vapour.
H319: Causes serious eye irritation.
H336: May cause drowsiness or dizziness.
Safety instructions
P101: If medical advice is needed, have product container or label at hand.
P102: Keep out of reach of children.
P210: Keep away from heat, hot surfaces, sparks, open flames and other ignition sources. No smoking.
P233: Keep container tightly closed.
P261: Avoid breathing dust / fume / gas / mist / vapours / spray.
P271: Use only outdoors or in a well-ventilated area.
Pattex Transparent power glue
3 Variants