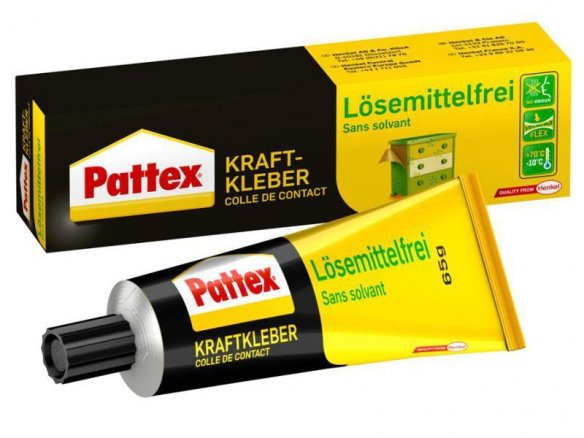 polymer dispersion-based contact adhesive, yellowish white, solvent-free, odourless, flexible, temperature resistant from –30 to +70 °C
Pattex Solvent-free is able to provide the highest adhesive strength while being minimally environmentally harmful (presupposing you use it properly and for appropriate purposes). It is heat resistant up to 70 °C. Pattex Solvent-free is especially good for gluing wood to decorative multilayer laminates, rubber, leather, cork, felt, rigid PVC, soft foams, metal and much more. Another application is the mounting of noise-reduction panels, insulation sheets, acoustic tiles, suitable plastic tiles and wall coverings. When this glue comes into contact with materials containing iron, discolouration can occur. Glue work with PP, PE, soft PVC and artificial leather is not recommended.
Pattex Solvent-free glue should be applied to both sides of the pieces to be bonded. Before joining the pieces together, the solvent must be allowed to evaporate (at room temperature this takes about 20 – 45 minutes). The pieces should then be pressed together firmly for a short time. The initial adhesive strength is so high that the workpiece can be further worked on immediately after the joint has been made. After about 3 days, Pattex achieves its maximum bonding strength. It takes between 250 and 350 grams to bond one square metre when applied properly (to both sides of the bond). In cases where the pieces to be glued are not under tension, wet gluing is also possible (apply to one side only!).
Pattex Solvent-free power glue, tube 65 g