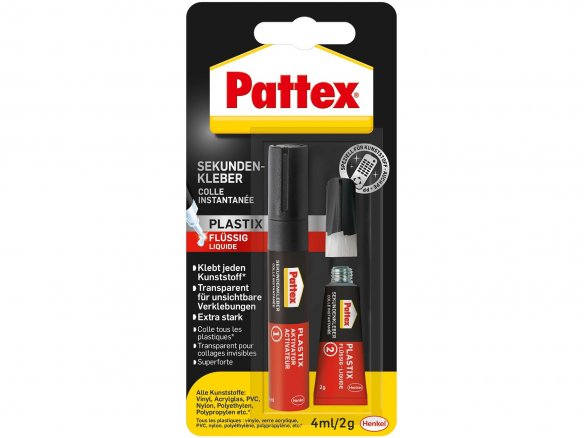 Pattex Plastix evens sticks to polyethylene (PE) and polypropylene (PP)
for invisible adhesion
Extra strong
A fast, simple, 2-piece system
Contents of set

2 g adhesive + 4 ml activator

Colour

colourless, transparent
Description
Hazard warnings
Instructions for use
Apply the activator (pen) to both sides of the pieces you want to bond. The two sides must be completely covered. Close the activator pen immediately after use.
Allow the activator to completely dry (about 60 seconds)
Then apply the glue (tube) to one of the sides of the pieces you want to bond and immediately press the two sides together and hold them for about 30 seconds.
Storage
Store the glue in a cool and dry place.
Danger, Ethyl-2-cyanacrylat = 80 - 100 %, Hydrochinon = 0,01 - < 0,1 %, (VOC-Gehalt = 0,0 %), Reizwirkung auf die Haut (Kategorie 2), Schwere Augenreizung (Kategorie 2), Spezifische Organ-Toxizität - bei einmaliger Exposition (Kategorie 3)
Hazard warnings
EUH202: Cyanoacrylate. Danger. Bonds skin and eyes in seconds. Keep out of the reach of children.
H315: Causes skin irritation.
H319: Causes serious eye irritation.
H335: May cause respiratory irritation.
Safety instructions
P261: Avoid breathing dust / fume / gas / mist / vapours / spray.
P302+P352: IF ON SKIN: Wash with plenty of water / …
P305+P351+P338: IF IN EYES: Rinse cautiously with water for several minutes. Remove contact lenses, if present and easy to do. Continue rinsing.
Pattex Plastix superglue kit, tube 2 g + activator 4 ml