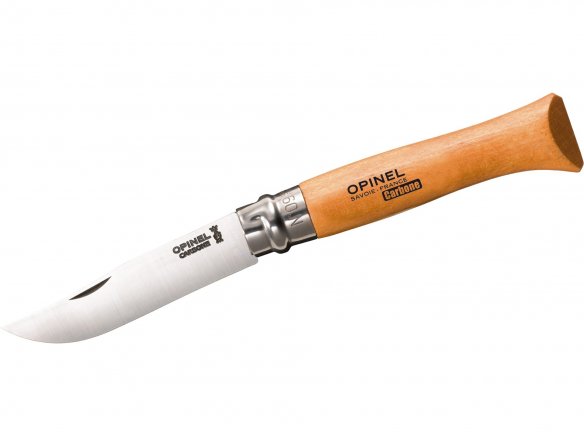 blade made of high alloy carbon steel
easy to sharpen
Haft is made from dried, aged hardwood
Blade length

90 mm

Handle length

117 mm

Weight

57 g

Handle material

mature hardwood

Packaging

blister pack (plastic)
The blade of this Opinel knife is made of high-alloy carbon steel. One advantage of this feature is that the blade can be easily sharpened by you yourself. This special steel should be cleaned and dried immediately after use because it is vulnerable to film rust.
By turning a safety ring (Virobloc system) the blade can be quickly locked in place.
The handle of this Opinel knife is made out of dried and well-matured hardwood that has been treated with a special lacquer that makes it moisture resistant. This is simply a great knife to have.
Opinel pocket knife No.9, Hard wood, not rust-free, 90 mm blade, blister pac
Accessories and Related Products