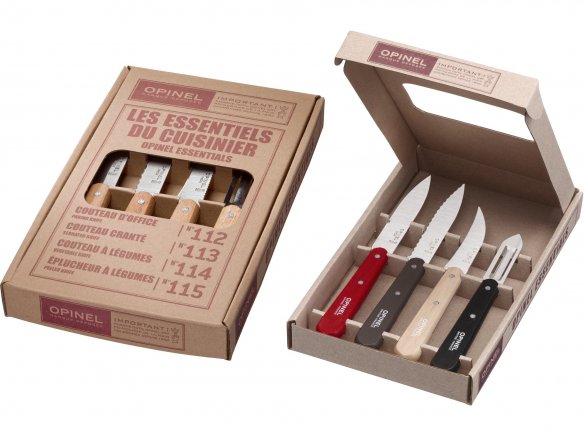 Blade length

95 mm

Weight of peeling knife

24 g

Blade length of paring knife

95 mm

Weight of paring knife

25 g

Blade length of fruit knife

73 mm

Weight of paring knife

21 g

Cutting width of potato peeler

35 mm

Weight of potato peeler

19 g

Packaging

Gift box, cardboard
The Opinel kitchen knife set contains 4 kitchen aids for daily kitchen work. The Opinel kitchen knives not only have a great appearance but are also high quality in terms of their functionality and workmanship. All the knives´ blades are made of rust-free Sandvik steel.
The painted beechwood handles sit wonderfully in the hand - but should not be put in the dishwasher!
In the case of the Essentials LOFT series, the knives have coloured handles with white lettering.
Peeling knife: colourless transparent lacquer
Vegetable knife: red
Fruit knife: grey
Potato peeler: black
Accessories and Related Products