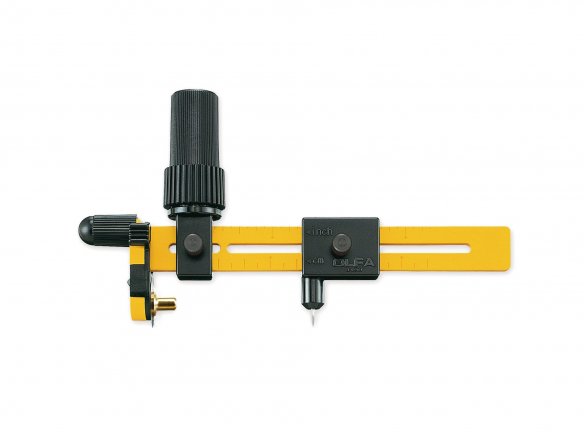 Cut perfect circles from fabric, felt, etc.
Ratchet handle protects your wrists
Suitable for right or left-handed users
Material

plastic with metal mechanics

Color

yellow/black

Unit of measurement

cm and inch

Blade

RB 18 stainless steel blade, replaceable

Equipment

Integrated safety covers for blade and turning tip

Possible circle diameters

40-220 mm diameter
Set the cup, pen, and scissors aside, and cut perfect circles from fabric, felt, and thin rubber with this circular cutter. We've tested it: The sharp, round blade cuts rolling circle diameters of 40-220 mm, without warping the material. You lead the cutter with a little pressure on the black ratchet handle over the cutter wheel with only one hand.
The handle rotates with the circular guidance of the cutter - so your hand always stays in a comfortable position. You will especially appreciate the actual ratchet function when cutting smaller circles: Guide the cutter for about a quarter circle until it becomes uncomfortable for your hand. Then simply turn the handle back a little (as if you were turning on a faucet - making a "rattling" or "creaky" sound) and continue cutting and ratcheting until your circle is cut out.
Modulor Tip: To get the circle cutting championship with the Olfa circle cutter, you need some practice. Therefore, start with larger circles and simple cotton fabrics.
Another Tip: To keep the high-quality blade sharp for a long time, always use a cutting mat. If you need to replace the cutting wheel, CMP-3 replacement blades are ready for you in a two-pack. Incidentally, used blades are usually still sharp enough to cut paper and thin cardboard, so keep them for crafting!!
Olfa ratchet rotary compass cutter, incl. 1 blade RB18, for circles from 4-22cm