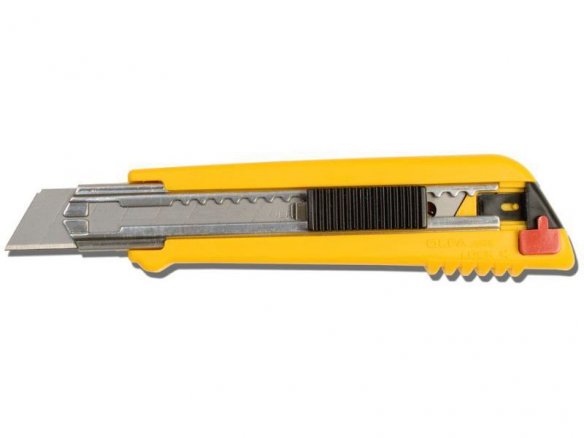 yellow, impact-resistant ABS plastic handle; notched (lock-in) feed mechanism, auto-lock blade positioner, stainless steel blade channel with locking screw, blade magazine with replacement blades in the handle for automatic reloading (up to 6 blades)
The Olfa cutter PL-1 is a sturdy, high-quality utility knife for professional use. This tool has the great heavy feel of a quality tool where you know its performance will not disappoint. The blade can be quickly removed and replaced with one hand because there is no loosening and tightening of the locking screw necessary. The easy-to-use feed mechanism locks the blade so securely in place that even when cutting really thick materials it will not budge. In cases where the material to be cut is particularly thick or tough, the locking screw which is located on the back side of the blade guide, can be employed as an extra measure of stability. The excellent stainless steel blade channel together with that additional possibility of securing the blade guarantees that it will be solidly fixed in place – which means very precise cuts.
The cartridge in the handle can hold up to six standard blades and enables you to make quick blade changes without having to remove your hand from your straight edge or from the material being cut. The used up blade must simply be removed from the front of the tool and the blade detent locking device for the automatic reloading simply pushed all the way to the back of the channel, allowing the next blade to rise into place – the housing of the cutter does not have to be opened at all.
Olfa cutter PL-1 for 18 mm blades with cartridge, LARGE, inc. 3 snap-off blade 18 mm