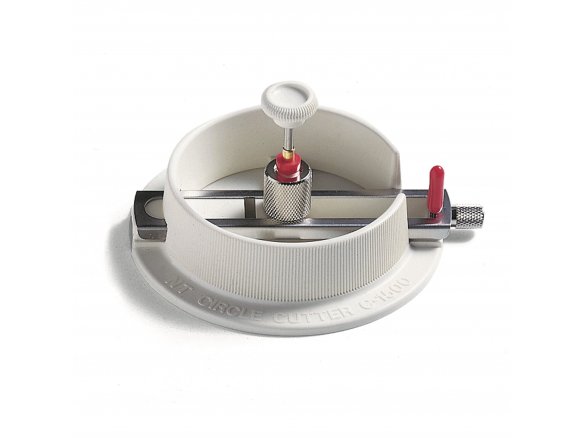 white plastic with metal workings, includes protective cap for the blade and a guide line template
The circle cutter C 1500 from NT is an excellent tool for cutting circles out of film, foil, paper, paperboard and even cardboard up to 2 mm thick. Using the standard version, you can cut circles from 18 to 170 mm in diameter but if you employ the separately available extension arm this is increased to a maximum of 400 mm diameter. It does not leave a needle hole in the middle of the circle. To achieve the best results, the material to be cut should be firmly taped to a tabletop. It is highly recommended that you only cease to cut when you are absolutely certain that the circle has been cut completely through the material because any later repositioning of the circle cutter is extremely difficult.
The cutting blade for compass allows you to turn a standard compass into a circle cutter as long as a hole in the middle of the circle isn´t a problem (only for use on paper or thin films).
NT C 1500 P circle cutter, incl. 6 blades BDA 200P, for circles ø 18-170 mm