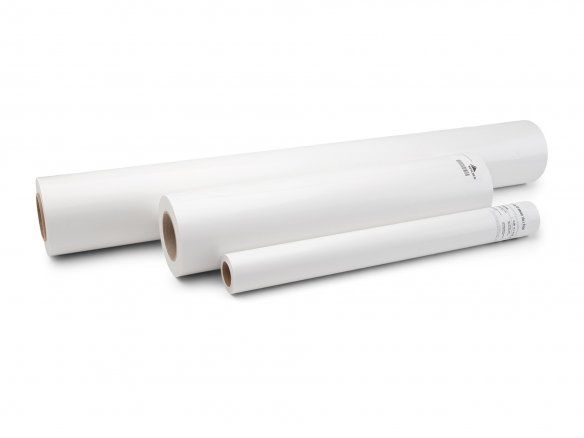 cloudy white, longitudinal-fibred non-woven paper, acid-free, th = 0.044 mm, solvent-free acrylate adhesive (strong bonding), one side with paper lining (both sides siliconized)
Attributes: Gudy 831 is not an adhesive film but rather a double-sided adhesive non-woven paper which only has a release liner consisting of siliconized paper on one of its sides which is wound on itself and therefore is only available in rolls. Its aqueous dispersion based acrylate adhesive is aging resistant, will not yellow, will not become brittle, will not bleed through, is pH neutral and is produced in an ecologically friendly manner without solvent. We will be glad to send you a sample (about A5) upon request.
Applications: Gudy 831 lends itself to being worked with by hand and can be applied to many smooth, rough and flexible substrates (e.g. uncoated particle board, plastic sheets). It is especially good for bonding paper to both cardboard and paperboard because in the process all the bonded components have similar attributes and the chances of warping are less than when using adhesive film.
Neschen dbl-sided adhes. non-woven paper, Gudy 831
4 Variants
Note
Please note that no exchange is possible in the case of products cut from rolls.