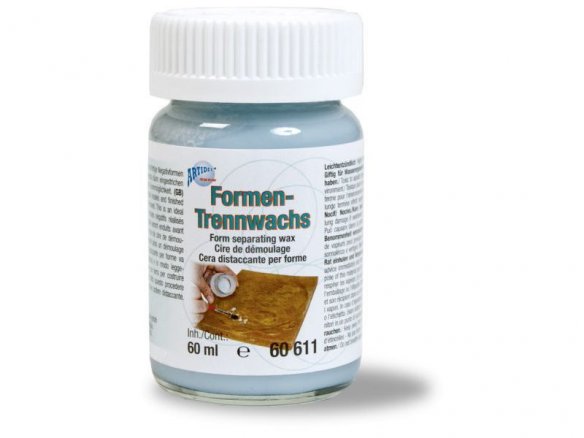 silicone-free
halogen-free
ready-to-use for application with brush or rag
flash-off time

15 - 20 minutes

uses

50 - 100 g per sq. metre

volume

60 ml

color

colourless when dried
This release wax is offered as an alternative to the large sized industrial containers in response to requests for smaller and thereby less expensive amounts by first-time experimenters or people whose project only requires a small amount of release agent.
To use this creamy liquid mould release wax you simply apply it to the master form before the casting process or to the finished mould before you begin your reproduction work. It can be used on all solvent resistant surfaces but is mainly the preferred choice when working with smooth surfaces. Because you seldom know how a particular surface will react to certain ingredients (which you probably also aren't familiar with!), in cases where the master form you are working with is valuable – in cases of general doubt – you should always make a preliminary test in order to prevent causing discolouration, cracks or other types of damage to your master.
You can use a rag or a brush to apply the wax. After the flash-off time has elapsed, the wax can be polished smooth with a cloth in order to achieve the optimal surface for your moulding work. Multiple applications of the wax are advisable in most cases (see "Information about Release Agents" for more on this topic).
Mould release wax, emulsion, 60 ml in glass bottle