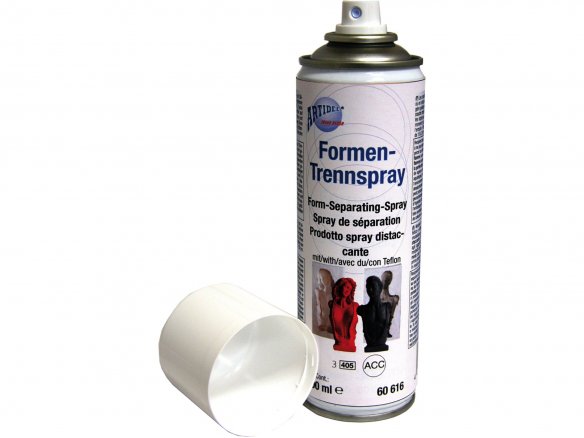 Protects valuable master models
Invisible, wafer-thin release and protective film
For smooth, non-absorbent surfaces
For painted and varnished objects
For glass, metal, ceramics, porcelain, and plastic
Release protection for complex latex and silicone molds
Contents

solvent-containing, rapidly evaporating release agent

Color

colorless, transparent

Consumption

40-50 g/m³

Density

0.60 g/m³

VOC content

96.1 % (therefore rapidly evaporating)

Properties

resistant to environmental influences, sweat, moisture, and dust
Description
Hazard warnings
If a mold is to be made of grandmother's valuable heirloom with a sensitive surface or fine painting, normal release agents can cause color changes or other damage. If you want to be on the safe side, use this mold release spray with Teflon as separation protection.
The wafer-thin Teflon film is invisible and is not removed after the object has been cast. Practical side effect: the transparent spray film provides the master model with high-quality protection against contact and tarnishing, which is resistant to environmental influences, skin sweat, moisture and dust.
The release spray is also very useful for complex latex and hollow silicone molds, where the brush cannot reach everywhere when applying the release agent.
Caution: The spray only develops its non-stick properties on smooth and non-absorbent substrates such as glass, metal, glazed ceramics, porcelain, and plastic.
Danger, Butan = 40-<45 %, Propan = 20-<25 %, Kohlenwasserstoffe, C7-C9, n-Alkane Isoalkane Cycelene = 15-<20 %, Kohlenwasserstoffe, C6-C7, isoalkanisch, cyclisch, <5% n-Hexan = 5-<10 %, Kohlenwasserstoffe, C7, n-Alkane, Isoalkane, Cyclene = 2,5-<5 %, Kohlenwasserstoffe, C6-C7, n-Alkane, Isoalkane, Cyclene, <5% -n-Hexan = 2,5-<5 %, Isohexan <5% n-Hexan = 2,5 - <5 %, n-Hexan = 0,1-0,5 %, Cyclohexan = <0,1 %, Aerosole: Aerosol 1, Ätz-/Reizwirkung auf die Haut: Hautreiz. 2, Spezifische Zielorgan-Toxizität (einmalige Exposition): STOT einm. 3, Gewässergefährdend: Aqu. chron. 2
Hazard warnings
H222: Extremely flammable aerosol.
H229: Pressurised container: May burst if heated.
H315: Causes skin irritation.
H336: May cause drowsiness or dizziness.
H411: Toxic to aquatic life with long lasting effects.
Safety instructions
P102: Keep out of reach of children.
P210: Keep away from heat, hot surfaces, sparks, open flames and other ignition sources. No smoking.
P211: Do not spray on an open flame or other ignition source.
P251: Do not pierce or burn, aven after use.
P271: Use only outdoors or in a well-ventilated area.
P273: Avoid release to the environment.
P410+P412: Protect from sunlight. Do not expose to temperatures exceeding 50°C / 122°F.
P501: Dispose of contents / container to …
Downloads
Mould release agent spray with Teflon, spray can, colourless, 300 ml