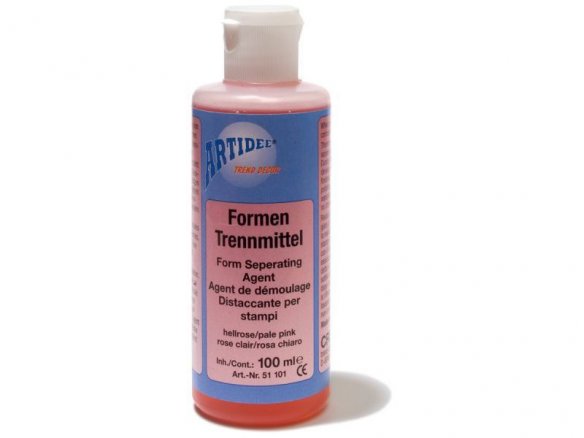 dyed to a reddish colour, polyvinyl alcohol-based; resistant to numerous solvents, styrol and benzene; ready-to-use, apply with cloth or brush, flash-off time: 15-20 minutes
Description
Hazard warnings
This release agent can be used in a mould when the end material is polyester, PUR or epoxy resin because it is resistant to the various solvents that are found in these resins. In addition, it is recommended for use on master forms that do not have solvent resistant surfaces.
To use this product, you simply apply a thin coat to the mould or the master form with a cloth or brush. It has a reddish colour in order to assist you in attaining an even, over-all application. This release agent dries within 15 to 20 minutes to a firm coat of cellulose, which not only enables release but also protects the mould or master form at the same time. For this reason, it can be applied prophylactically to silicone moulds that you plan to use over a long period of time with aggressive resins like, for example, polyester. Any residue from the release agent that remains after your moulding work can be washed or sanded away from many surfaces – in the case of absorbent surfaces (like plaster) the removal can be more difficult because the agent will have penetrated deeper into the surface.
Danger, Propanol-2-ol = 15 - < 20 %, BIS(TRIMETHYLSILOXY)METHYL-3-(HYDROXYPROPYL)-, ETHOXYLATED = 0,3 - < 1 %, Flam. Liq. 2, Eye Irrit. 2
Hazard warnings
H226: Flammable liquid and vapour.
H319: Causes serious eye irritation.
Safety instructions
P210: Keep away from heat, hot surfaces, sparks, open flames and other ignition sources. No smoking.
P241: Use explosion-proof [electrical / ventilating / lighting / …] equipment.
P280: Wear protective gloves / protective clothing / eye protection / face protection.
P303+P361+P353: IF ON SKIN (or hair): Take off immediately all contaminated clothing. Rinse skin with water [or shower].
P305+P351+P338: IF IN EYES: Rinse cautiously with water for several minutes. Remove contact lenses, if present and easy to do. Continue rinsing.
P501: Dispose of contents / container to …
Mould release agent, low viscosity, water soluble, 100 ml in plastic bottle