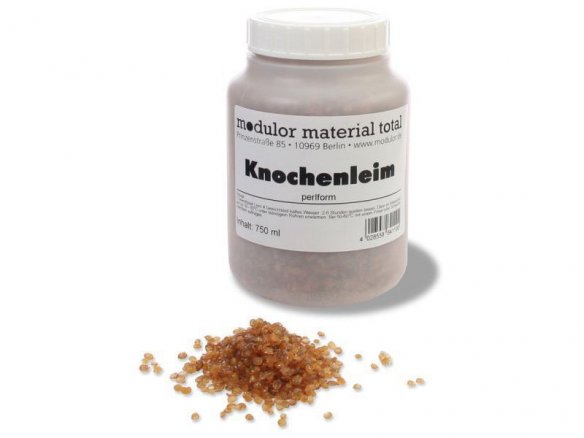 natural glue granules (made of animal protein), in bead form, course, amber coloured and transparent, contains gluten, odourless, water soluble, processing temperature is about 50°C - 60°C, no hazardous label required by the German Hazardous Substance Ordinance
Modulor bone glue is a brittle glutine glue for bonding wood, cardboard or paperboard (bookbinding adhesive). It can also be used in painting work (primer for rigid painting surfaces), as a paint binder (distemper technique) or for making modelling compounds. Bone glue is a natural product that will maintain its effectiveness for practically an unlimited amount of time as long as it is stored in a cool and dry place.
When preparing it for a typical gluing job, the granulate should be stirred into cold water (maximum: room temperature) in a ratio of 1:4. After allowing it to soak for 2 to 6 hours, the resulting mixture should then be stirred again in a water bath at a temperature of 50°C (maximum 60°C – definitely do not allow the water to boil because the glue will lose its bonding strength). At this temperature the beads will dissolve into a solution. The glue should be warm when being used because if the temperature of the admix falls below 50°C, the solution will begin to form a gel.
Modulor bone glue, in bead form, palstic bottle 750 ml