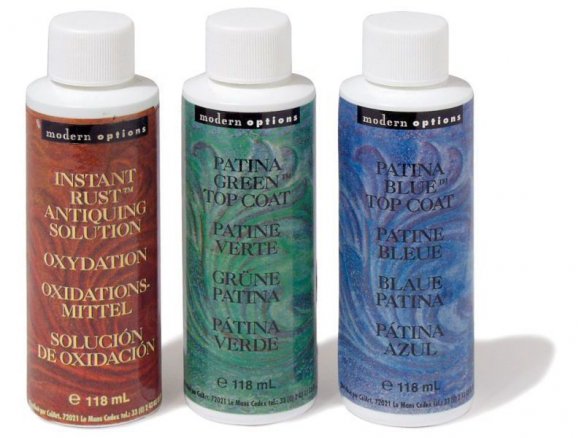 oxidation agent for copper, brass, bronze and iron/steel but especially for patining Modern Options metal paints
With the exception of the 3.7 litre bucket, all articles can be delivered quickly (2 - 4 working days).
The antiquing agents contain a strong oxidation agent and are designed to be used with the Modern Options metallic surfacer in copper, gold, bronze and iron (but not in silver). They react with the metal pigments in the paint so that the aging process will be accelerated; the resulting weathered surfaces look amazingly authentic. The antiquing agents can also be used on the surfaces of "real" metals like copper, brass, bronze or steel.
For further aging effects, objects that have already been thoroughly antiqued can be treated with a tinting solution whereby the patina will acquire red or black colour shades. The metallic surfacer in silver does not oxidize and therefore can only be treated with the tinting solution.
Sculptures, especially, acquire greater plasticity with the implementation of the antiquing or tinting treatment because more antiquing agent or tint, as the case may be, will settle in the recesses and bring new aspects to the fore.
It is important to note that if the antiquing agents are used in conjunction with the Modern Options metallic surfacers, the application must be made while the metallic surfacer paint is still moist because otherwise the binding agent in the paint will hinder the oxidation process.
The patina solution or the rust solution should be applied to the metallic surface with a brush - a cheaper type brush is recommended because the solution will shorten the brush's lifespan. When working with the solutions, they should be placed in a plastic cup because a metal container will oxidize and some agent will be wasted. After only a few minutes, the first signs of its working will appear and these will become more and more prominent after a few hours.
In order to prohibit patina particles from coming loose, the surface in question can be coated with varnish or a PRIMER/SEALER. It should be noted that varnishing will change the appearance of the patina somewhat. A trial run is therefore advisable.
If the patina agent is to be applied to real copper, steel or bronze, these metals must be fine-sanded directly before the application in order that a reaction will take place at all in the sanded area. The resulting effect is comparable to that attained with Modern Options metallic surfacer when used in combination with the patina agent. 
Antiquing Solution
Tinting Solution
Silver/Aluminium
-
black or red tint
Gold
green patina
red tint
Copper
green or blue patina
-
Iron/Steel
rust
black or red tint
Bronze light
green or blue patina
red tint
Bronze dark
green or blue patina
-
Modern Options patina green/rust antiquing agent, bottle 118 ml, rust (Instant Rust) 094
6 Variants