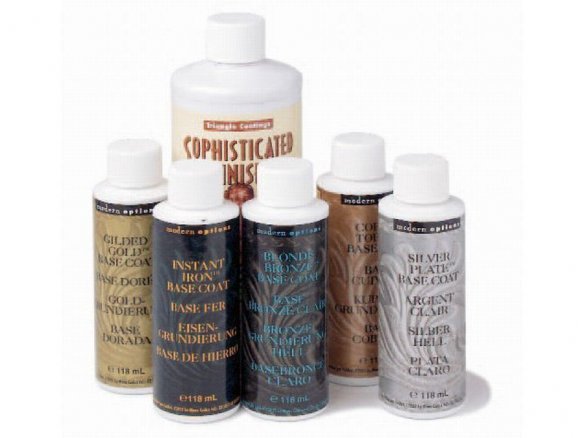 special water-based paint containing a large portion of real metal pigments, for coating metals or as ground colour for Modern Options patining agent
The Modern Options metallic surfacer allows you to create the look of a metal surface and this can then be artificially made to look old with a second step using Modern Options antiquing and tinting solutions. The paints can be applied to wood, plaster, ceramic, metal and many other surfaces.
The surface should be thoroughly cleaned before application. In the case of certain surfaces (porous, slick, etc.) a primer coat using Modern Options Primer may be required.
The metal is subsequently applied evenly using a natural hair brush or a foam brush and, after a 10 to 30 minute wait (depending on the colour), a second coat should be applied.
| | | |
| --- | --- | --- |
| Metal colour | Patina agent | Tinting solutions |
| Silver/Aluminium | - | black or red tinting solution |
| Gold | green Patina | red tinting solution |
| Copper | green or blue Patina | - |
| Iron / Steel | Rust | - |
| Blond bronze | green or blue Patina | red tinting solution |
| Blackened bronze | green or blue  Patina | - |
Modern Options metallic surfacer
9 Variants