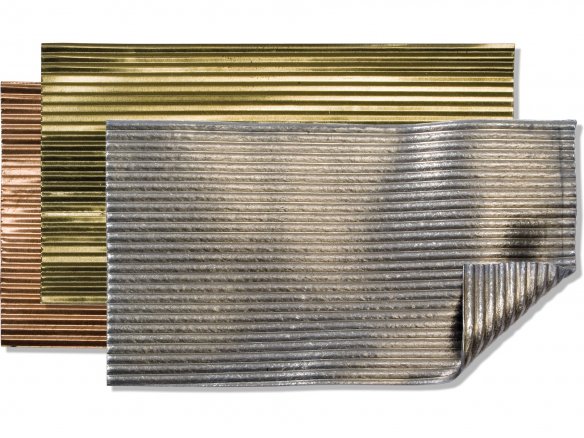 Textural configuration: s = 1.5 mm, h = 0.5 mm
Applications: These micro-corrugated sheets are a very interesting material for model making, especially in the realm of architecture but also in that of railway models and dioramas as well. In this regard they are best used for representing roofs, cladding and the like. They have also found some use in jewellery design, as a photographic background or in small decorations.
Treatment: Their thinness allows them to be easily cut with a BLADE or SHEARS. Bonding work can be done – depending on the material - by soldering (aluminium excluded!) or, alternatively, by using mixed adhesives (e.g. epoxy or cyanoacrylate based glues), RUDERER plastic glue or UHU HARD GLUE.
Micro-corrugated sheet, through-stamped, fine
4 Variants
100 mm x 180 mm
150 mm x 240 mm
175 mm x 240 mm
Aluminium
Lead
Copper
Brass
Note
Please note that because of the corrugation the usable dimensions vary slightly.