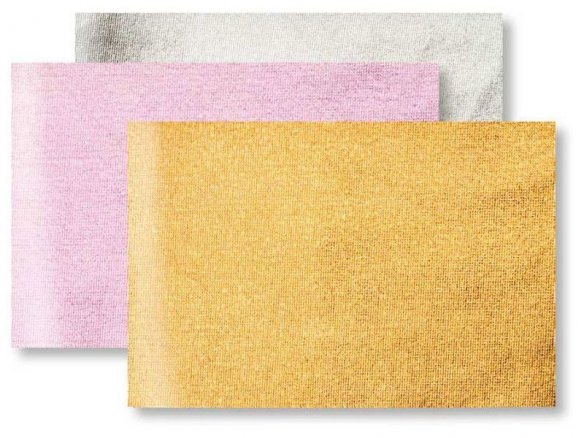 95% polyester, 5% Spandex (elastane), 175 g/m², solid colour, one side has a glossy coat (polyester), not washable, effective width ca. 1470 mm, doubled over
Glamorous shine with a soft and stunning cascading effect, elastic: these attributes predestined this metallic jersey's use for making loosely cascading and pleasantly conspicuous evening dresses – but shirts and leggings, glamorous Mardi Gras costumes or "performance" attire are further possibilities! But just on its own, it can serve as a great decoration fabric if you are looking for a metallic shine.
This fine-mesh fabric is especially elastic crosswise and the "metallic" coated front of the fabric has the same colour on the reverse side but there it is matte.
A jersey needle is the best implement for sewing jersey (logic at its best!) - its blunt point will not harm the mesh structure of the fabric. In order to prevent the tearing of a seam upon stretching, we recommend that you use a zigzag or triple stitch or, alternatively, to work on an overlock machine. The cut edges fray only a negligible amount, which makes it possible to work with jersey without selvedge.
Care tip:
The manufacturer recommends that this jersey never be washed, neither by hand or machine. It should also never be ironed. Dry cleaning is the only option.
Metallic Jersey, coated, uni (9746)
12 Variants
Note
Minimum order: 0.5 running meter