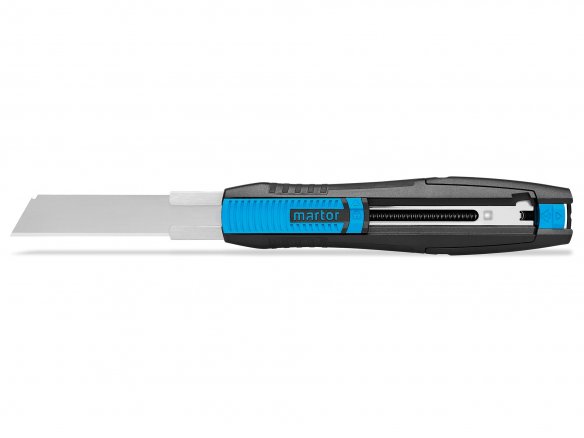 The world's first safety knife with a 7.8 cm blade length
Perfect for freehand cuts and deep cuts in soft materials
Safe, fully automatic blade retraction
Ergonomic grip
For right- and left-handed use
Material

fiber reinforcement plastic, metal rail, plastic handle with soft grip

Design

With suspension hold and blade change button

Dimensions

170.5 mm x 20 mm x 34 mm

Weight

76.1 g

Blade length

78 mm

Cutting depth

73 mm

Compatible blades

Martor blades Nr. 79, Nr. 179, Nr. 7940 and Nr. 17940
The Martor Secunorm 380 is the world's first safety knife with a particularly long blade of 78 mm and a secure, fully automatic blade retraction. The lightweigth and ergonomically shapped cutter with a fixed blade combines low-risk work with a variety of separable materials. It is possible to cut up to 4-ply carton, bagged goods, film and paper rolls, construction foam, styrofoam plates, PVC flooring, foams, laminated films, wrap, stretch and shrink films, adhesive tape, plastic strapping, as well as nonwovens and felt.
The Martor Styroprout No. 79 is in included. Using the blade exchange button, the blade can be easily removed and replaced. Depending on how the blade is positioned on the blade carrier, the cutter is suitable for left- and right-handed use.
The family company, Martor from Solingen, is regarded as the leading international expert in cutting tools. Martor has been developing industrial and professional cutting blades for more than 75 years. In line with its motto, "Enjoy safety made in Solingen," the company has committed itself not only to innovative and high-quality products, but also to their safe handling. The number of injury incidents has been reduced to a minimum over time.
Martor Secunorm 380 safety knife, 78 mm blade exposure incl. 1 blade No. 79