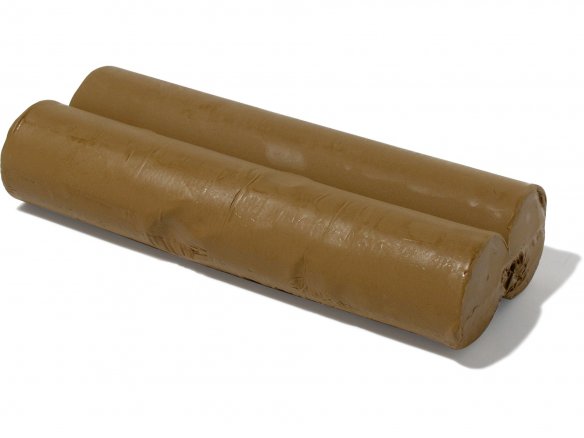 non-drying modelling clay made from wax, fillers and pigments, can be worked with from 15 C° to 25 °C, tear-proof, polishes up well, odorless, homogenized (no air bubbles), forms hard surface and stable edges, pre-heating temperature: 55 °C to 60 °C, density is 1.45 g/cm³
Mars Clay, our standard clay, comes from one of the largest clay suppliers for the European automobile industry. In comparison to Tec Clay, this standard clay is heavier but also considerably less expensive (the volumes of the bars are the same for both products, the density, however, is of course different).
Mars Clay exhibits a high degree of consistency in terms of colour hue and plasticity. This material, which has stable edges and contour accuracy, does not dry out on the surface and therefore does not crack. It is therefore also possible to change a model even after a number of years by applying more clay in order to achieve the desired shape.
The clay when warmed adheres extremely well to base materials like wood or POLYSTYRENE FOAM and can be worked on at room temperature by hand or with a milling machine with good success. Even though the manufacturer says that models made from Mars Clay can allow moulds using PLASTER, SILICONE and POLYESTER to be taken from their surfaces, we recommend that when using silicone (ONLY condensation-crosslinked silicone) a trial run should definitely be made first in order to avoid inhibition problems.