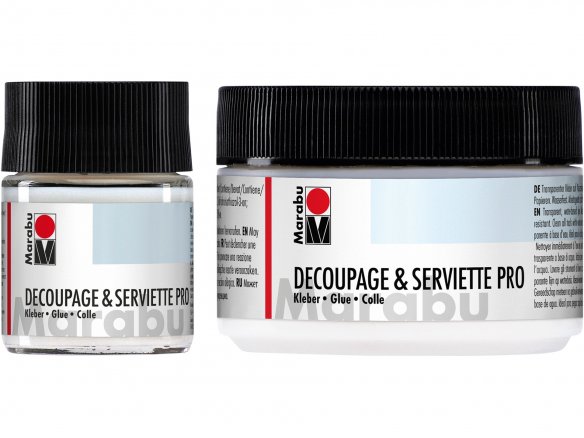 Due to its intensive adhesive power, it's also suitable for wallpaper techniques.
Water-based
Waterproof
Color

Transparent

Properties

transparent, waterproof, water-based

Application

Decoupage, napkin, and wallpaper technique
The Marabu Decoupage water-based adhesive is ideal for gluing decoupage or decopatch paper. It's convincing with its strong adhesive power and easy handling. So, you can turn simple objects into chic, individual art objects in just a few simple steps. What do you think, for example, of a lampshade decorated with dried petals? Or you give a simple storage box with old newspaper snippets a certain vintage charm.
Step by Step Decoupage Instructions:
1. Your adherend should be clean and free of grease. For extra support, prime with acrylic varnish first and allow to dry.
2. Briefly soak cut paper in water, dab with tissue, and brush with Marabu Decoupage water-based glue.
3. Stick on the object and smooth it out.
4. Apply another thin layer of glue and let it dry thoroughly.
Attention: When pasting, the paper edges deserve special attention. Especially here, you should not save on glue. Push air bubbles immediately to the outside.
Marabu water-based decoupage glue
2 Variants