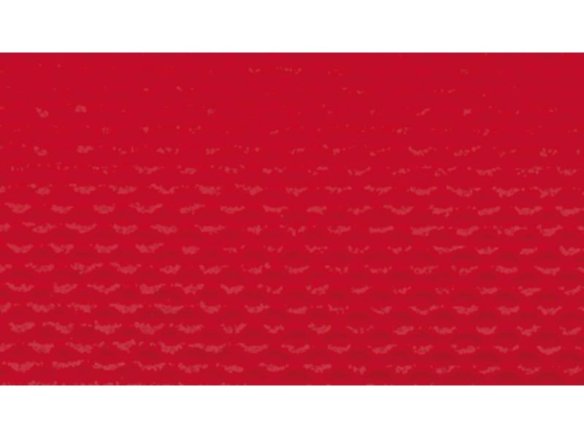 PVC coated polyester fabric, glossy/glossy, grammage 630 g/m², (the olive green version is 750 g/m²), tear strength app. 2,500 N/5 cm or, for the olive green 3,000 N/5 cm), temperature resistance (long-term) is -30 to +70 degrees centigrade, colour fastness as per DIN EN ISO 105-B02 is at least 7 (out of a possible score of 8
Lorry tarpaulin material is very versatile and easy to work with. It is extremely tear-proof and waterproof and can be used to make bags, duffel bags, backpacks or even (rain) jackets and pants. Of course it can also be used as a tarp either plain or hemmed, stretched on a frame for an advertising sign, as well as used as a projection screen, room divider, (shower) curtain or, in conjunction with a tubular frame (see PIPE FITTINGS), as a tent.
The olive green tarpaulin is a much sturdier version that is used by the Austrian military as a truck tarpaulin and tank cover. These tarpaulins must be extremely resistant to outdoor weathering; for this reason they are painted with a plasticizer protecting varnish in order to assure that they will not become brittle because of a loss of plasticizer. On the other hand, the material should not give off reflections - this is, after all, the military! - so a special matte paint is also used. To these differences must be added the fact that the tarpaulin itself is a whole level sturdier than standard truck tarpaulin material.
In general, all tarpaulins can be cut with a scissors or cutter and glued by means of SOFT-PVC GLUE.. Any holes made for hanging curtains or for stretching/spanning purposes should be reinforced with hollow rivets. Pop rivets are best for rivet connections but they should be secured with a grommet in order to hinder any tearing.
A leather sewing needle should be used for any sewing work because it can cut through such a thick material and thereby allow for a more flowing sewing motion. The seams should subsequently be reinforced with soft-PVC glue. A presser foot glides best over the moderately sticky PVC if it is made from Teflon (unfortunately, a Teflon presser foot is not exactly cheap!). It is less expensive to use a tissue paper as an underlay or to put some sewing machine oil (SILICONE OIL) on the area to be sewn to make it slippery.
Lorry tarpaulin fabric, coloured
4 Variants
1.500 mm
2.180 mm
2.500 mm
Note
Please note that no exchange is possible in the case of products cut from rolls and the minimum order for products sold from rolls is 0.5 running metre.