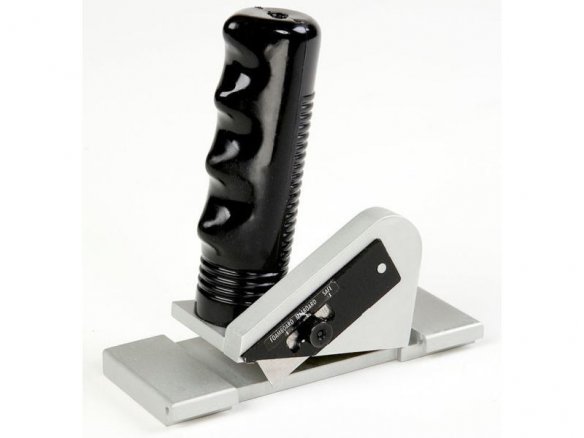 steel, ergonomic plastic handle, three depth settings up to maximum 5.0 mm, can be used with Logan Adapt-A-Rule straight edge and Logan passepartout cutter set, includes 3 blades (No. 270)
The Logan Elite 701-1 90° cutter is great for cutting the outer dimensions of passepartout boards but can of course also be used to cut other types of cardboard and paperboard where exact 90° cuts are required. It can be used with all (cutting) rulers but using it in combination with the LOGAN ADAPT-A-RULE STRAIGHT EDGE enables the cleanest cut because it can be clicked into position in the groove provided. This cutter includes pre-installed nylon guides and screws for making that attachment. The cutting depth can be set at three levels: the security setting, the thickness of a normal passepartout board and a maximum setting of about 5.0 mm. This 90° cutter is a great supplemental device for the LOGAN PASSEPARTOUT CUTTER SET.
The American brand Logan has been manufacturing professional quality cutters for passepartout, paperboards and rigid foam boards since 1974. This world market leader offers a comprehensive assortment of products in grades varying from those for do-it-yourselfers to those for professionals.
Logan straight cutter Elite 701-1, 90° pull style
Accessories and Related Products