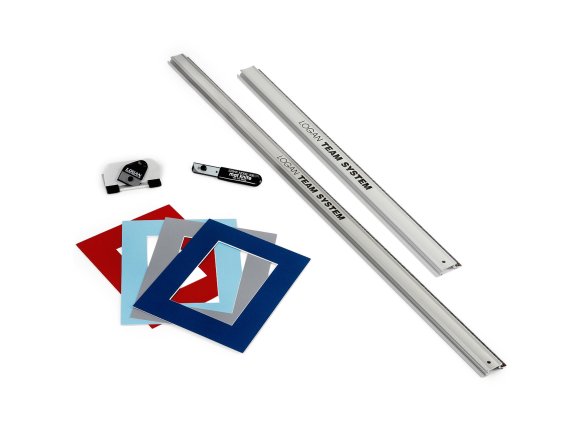 Product description

Logan Adapt-A-Rule cutting guide (anodised aluminium, slide groove for Logan bevel cutter

equipment

aluminium edge for cutting/black aluminium face with mm/inch graduation, with hanging hole and non-slip rubber base, includes 5 replacement blades (No. 270)

Model

Logan 302 model (like the Logan 2000 model + small feet for the rail), 90° hand cutter (Logan 500 model)
Both sturdily made cutter sets consist of one straight edge of either 600 or 1000 mm length and a 38° (precise) passepartout push style cutter Model 302 (with start/stop indicator) which clicks into the slide groove of the straight edge – this combination allows you to make precise 38° cuts. This push style cutter Model 302 is constructed the same as the separately sold 38° push style cutter Model 2000 but the necessary small plastic feet are screwed into place. The cutting sets can be supplemented with a 90° cutter (Logan straight cutter eElite 701-1) and replacement blades are of course available for the cutter head (Logan replacement blades. The standard cutter provided with this product is the push style version; if you prefer to work with a pull style cutter you can use one of the individually available straight edges (Logan Adapt-A-Rule straight edge) in combination with the Logan Mat Cutter to make your own pull style bevel cutter.
The American brand Logan has been manufacturing professional quality cutters for passepartout, paperboards and rigid foam boards since 1974. This world market leader offers a comprehensive assortment of products in grades varying from those for do-it-yourselfers to those for professionals.
Logan passepartout cutter set
2 Variants
Accessories and Related Products