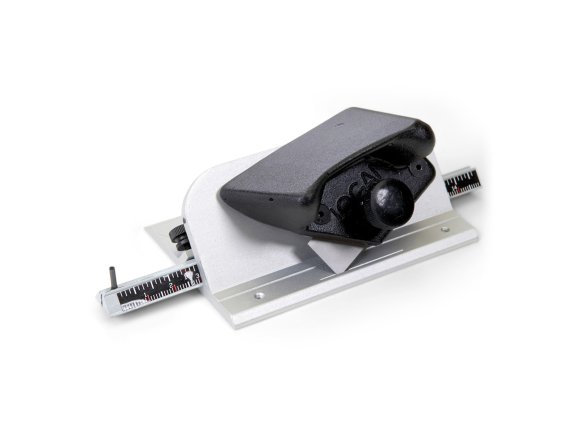 Steel, includes a marker bar system for faster marking, continuously adjustable cutting depth up to about 2.0 mm, blade holder with spring mechanism, with start/stop indicator for the avoidance of overcuts in the corners, suitable for Logan Adapt-A-Rule straight edge and Logan mat cutter 301-S, includes 1 blade (No. 270)
The Logan 4000 Deluxe mat cutter is a professional quality 45° pull style cutter with ergonomic knob (handle) and patented spring mechanism for the blade holder by which the blade springs back to its original position after a cut is finished. According to the manufacturer, the pull style cutter is capable of more precise cuts and is easier for lefthanders to use than the push style version.
The blade is securely affixed in the head and this makes very exact cuts possible because the blade will not bend during the cutting action. The start/stop indicator allows you to see exactly when you have cut enough of the corner to free it from the board. This passepartout cutter can be used with any (cutting) ruler but the best results are attained with the LOGAN ADAPT-A-RULE STRAIGHT EDGE because it can be clicked into position in the groove provided. The integrated marker bar system simplifies the marking of the border lines.
The American brand Logan has been manufacturing professional quality cutters for passepartout, paperboards and rigid foam boards since 1974. This world market leader offers a comprehensive assortment of products in grades varying from those for do-it-yourselfers to those for professionals.
Logan mat cutter 4000 Deluxe, 45° pull style with marker bar system
Accessories and Related Products