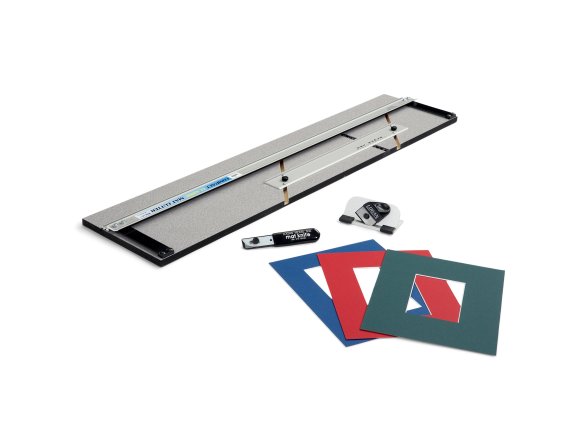 Construction

cutting system with plastic base board non-slip rubber feet, spring loaded aluminium guide rail and parallel aluminium mat guide

equipment

guide rail with an open ended slide groove guide on the side, two cutting heads includes 5 blades (No 270)

Cutter heads

passepartout cutter 38° (Logan 2000 or 302 model) and 90° ( Logan 500 model)

Worktop measurements

approx. 200 x 810 mm
This device, despite its handy size, provides you with the means to make professional quality mat cuts. This well designed tool is great for anyone who regularly cuts passepartouts but must keep price in mind. It can be easily disassembled and its subsequent storage requires very little space.
The open ended, spring loaded aluminium guide rail allows you to make exact mat cuts of every size: up to 810 mm long edges can be cut in a single pass, beyond that length the board must be shifted. The guide rail has a groove within which the mat cutter for 38° cuts can be clicked into place. The push style cutter (Logan model 2000) has a continuously adjustable cutting depth up to maximum 2.0 mm and has a start/stop indicator that prevents overcuts. The 90° cutter (Logan straight cutter 500) is provided for cutting the outer dimensions of a board.
The parallel mat guide, which can be locked in place and, if needs be, removed, allows you to cut passepartout borders from 20 to 110 mm. This adjustable mat guide stop running parallel to the guide rail makes it much easier to pencil in a line where you want to make your cut and of course also makes the actual cutting easier as well because you only have to push the cardboard all the way to your preset stop to know that it is in the right position. During the cutting process, the mat board will automatically be held in place under the guide rail by virtue of the pressure you will be applying to the cutting head - with the effect that the mat board cannot shift or slide out of position. The Logan 301-1 Compact Classic can be upgraded with the Logan mat cutter 3000 (a pull style cutter) or the Logan mat cutter elite 701-1.
The American brand Logan has been manufacturing professional quality cutters for passepartout, paperboards and rigid foam boards since 1974. This world market leader offers a comprehensive assortment of products in grades varying from those for do-it-yourselfers to those for professionals.
Logan mat cutter 301-1 Compact Classic, with worktop, incl. 38° und 90° cutter