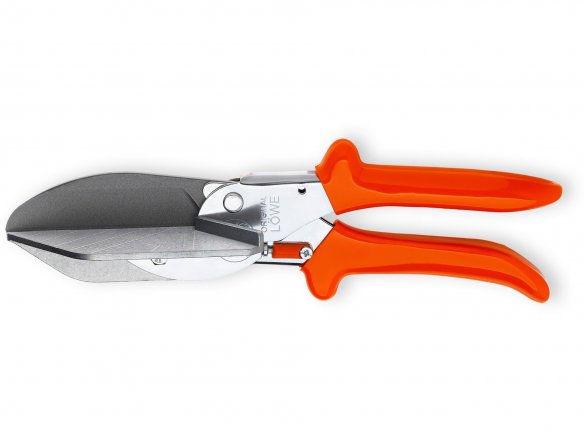 for home or industrial use
with 45° stops
for profiles and frames made of wood, plastic, rubber or leather
cross cut up to 20 x 50 mm (diagonal up to 70 mm)
ergonomic plastic handle cover
Made in Germany
Cutter material

Metal part is chromed

Blade material

steel - special alloy with non-stick and anti-corrosion protection

Length of cut

75 mm

Cutting capacity, round

ᴓ 20 mm

Cutting capacity profile

20 x 50 mm
Information about Löwe mitre cutter with anvil, trapezoidal blade:
The 75 mm jaw capacity of this mitre cutter with anvil makes it a particularly interesting tool for serious hobbyists and industrial professionals. The cutter makes it possible to easily and cleanly cut plastic or wooden profiles to length.
These cutters can precisely and cleanly cut floor baseboards made of plastic or wood as well as picture frame mouldings. In the case of picture frame profiles we recommend preliminary testing. The success of the job will depend on the thickness of the profile as well as the type of wood and its grain orientation. The coated blades are made of special steel and have an extremely long working life - they can be sharpened with a grindstone if needed. All the parts of this anvil cutter can be separately purchased and easily replaced.
Information about Löwe:
Original LÖWE cutters are tools for professional use in viticulture, fruit growing and gardening but they also have many other diverse uses in industry and in the crafts. The company´s founder Walther Schröder invented this groundbreaking tool as early as 1923: He developed the world´s first anvil cutter and patented it way back then.
All the components of the original LÖWE cutters have been developed, finished and assembled in Germany ever since the founding of the company. Special manufacturing processes and continuous quality controls assure that the LÖWE cutters will have particularly long service lives. The original LÖWE blades are unusually durable and dependable and are guaranteed to last for a long time - even in frosty conditions. LÖWE developed its own high quality steel alloy from a German steel mill for the production of the blades.
Löwe anvil mitre cutters, 75 mm cutting length 45° stops