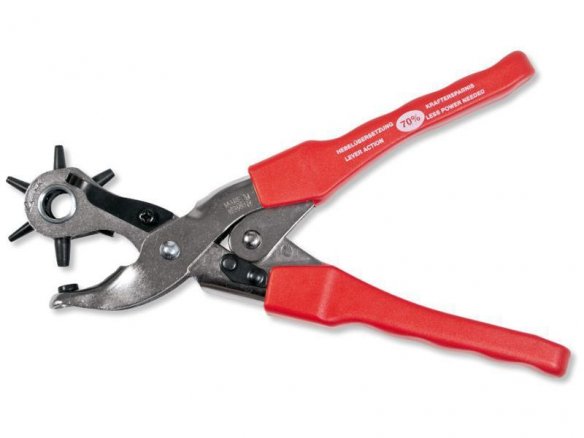 nickel-plated steel, revolving ring with 6 different hole diameters, punch heads can be changed, locking clamp for the handles, handles are plastic covered, made in Germany
Making holes in thick cardboard, real leather belts or even in bags made of heavy material begins to hurt your hand after only the third hole if you are using a "normal" revolving punch pliers. If you require four or more holes you should definitely consider buying this lever-action pliers because it will relieve you of 70% of the normal squeezing effort. Whether it is really 70 % or not, we can't be sure but we will guarantee that the difference in the required strength will be considerable. The two handles of the pliers are joined together with a lever pivot and it is this that accounts for the really pleasant servo effect that is so friendly to your tendons and nerves when punching holes in practically any material.
If you require a hole with a 1.5 or 6 mm diameter, or if you want to change the punch heads themselves, we carry PUNCH HEAD SETS just for this purpose. A slot screwdriver or a similar tool should be used as a lever in order to push the hole punches out from the back (you reach them in the ring's middle circle) – note that they are only pressed into their mounting holes. You could, we suppose, simply pull the punch heads out with a pliers but this has proven to be pretty difficult. Maybe you can do it, though!
Lever action revolving punch pliers 370, for hole ø 2,0/2,5/3,0/3,5/4,0/4,5 mm