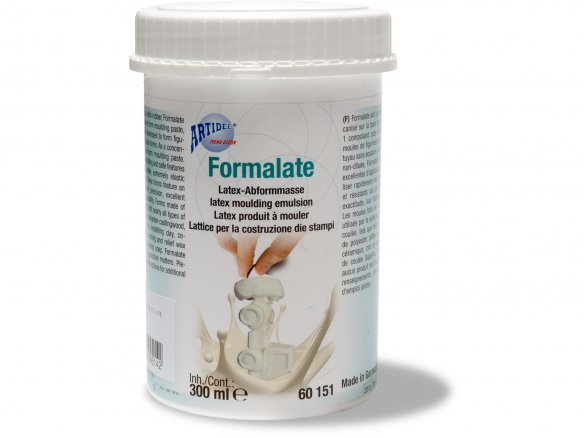 natural rubber-based air drying single component casting material (dispersion), pre-vulcanized with ammonia (0.3%), very soft (no Sh-A data available), extremely elastic, very low viscosity, cures to a translucent amber colour, pH value 8-9, shelf life with proper storage (20 °C) is at least 24 months
Description
Hazard warnings
Latex milk is used to make thin, seamless, flexible moulds from objects made of various materials – it cannot be used to make moulds from objects made of metal alloys containing copper, brass, cobalt or manganese because these metals will corrode the latex.
Before making a mould, the dry, clean and dust-free master pattern (object) must definitely be covered with a release agent and sealed beforehand if it is made of a porous material like clay, plaster or wood in order to prevent the latex milk from permeating the surface. Either a concentrated soap solution (detergent) or methyl cellulose (thin wallpaper paste) is usually sufficient for sealing your object - both of these can be washed away later. As an alternative, porous materials can be varnished or painted.
The latex milk should be thickly applied to the already prepared master pattern with a soft BRUSH and allowed to dry for one to three hours depending on the room temperature. The original object can alternatively be dipped into the latex milk. Because latex moulds are not cut during de-moulding but rather rolled off, a small part of the master (e.g. the base) should remain free of latex. The edge of the latex mould around this opening should be made extra strong so as to prevent it from tearing during the de-moulding operation.
As soon as the first coat is dry – meaning the latex milk has coalesced and turned slightly yellow – more and more coats should then be added with a brush or by means of dipping. Depending on the size of the master pattern, this process must be repeated from 4 to 20 times until a thin, flexible mould has formed (see "Small Lexicon" in the chapter "Silicone"). In this process, the following applies: the larger the master, the thicker the flexible mould has to be. In the case of a shape that is up to 15 cm in size, three dippings will usually suffice. In the case of one that is 30 cm, the flexible mould should be at least 1.5 to 2 mm thick. If the latex milk is to be applied with a brush, the brush must be cleaned with cold water after each coat.
In order to speed up the drying process of the latex milk, the coated master can be heated, after each coat application, in an oven that has been heated to about 50 °C – this assumes that the master is made of a material that can withstand the heat.
In the case of larger moulds, a support casing ("mother mould") must be made before the latex has been removed from the master pattern. How this works is described in general terms in the chapter "Silicone" (see under "Small Lexicon": glove technique/flexible mould). If objects with significant undercuts are to be moulded with latex milk, the rigid support casing, if required, must consist of multiple parts (at least two) because otherwise it will be impossible to remove it from the master pattern (which itself will be covered with latex). Note: latex moulds cannot, like silicone moulds, have more material added to the mould in areas where the undercuts are significant enough to cause problems later. Because making multi-piece support casings is a pretty involved undertaking, we recommend that when making moulds of complicated master patterns you use silicone.
De-moulding is accomplished by rubbing soap and water to the outer surface of the dried latex mould and then carefully rolling it off. It should then be washed out with water and only used for casting work after it has been allowed to completely harden for three days.
Latex moulds are designed primarily for casting with less aggressive media like plaster, wax and plaster-based casting materials. Of course PUR and polyester casting materials, as well as epoxy resins, can be poured into latex moulds but these will negatively affect the life expectancy of the mould because they will tend to corrode the natural latex and result in its becoming too brittle.
When making a reproduction, the filled mould should be stored in the support casing or, in the case of smaller moulds, hung by the reinforced edge. In the latter instance, one option is to cut a hole into thick cardboard that is the shape of the mould's filler opening, then pull the mould through it and affix it at the circumference of the opening on the top side of the cardboard with adhesive tapes or a pin. After the casting material in your mould has cured, the latex mould must be rubbed with soap and water in order to roll it off.
Our own testing has revealed that latex milk can be successfully coloured with dispersion or acrylic dyes. You can try to simply use pigments but please note that too many pigments can cause the milk to become very clumpy, which you don´t want!
HAZARD__BLANK_, Zinkbis(dibutyldithiocarbamat) = ≤ 2,5 %, Zinkoxid = ≤ 2,5 %, Ammoniak 25% = ≤ 2,5%, Aquatic Chronic 3
Hazard warnings
EUH208: Contains (name of sensitising substance). May produce an allergic reaction. (EUH08 may be omitted if EUH204 or EUH205 has to be applied.)
H412: Harmful to aquatic life with long lasting effects.
Safety instructions
P101: If medical advice is needed, have product container or label at hand.
P273: Avoid release to the environment.
P501: Dispose of contents / container to …
Downloads
Latex Moulding Material
3 Variants