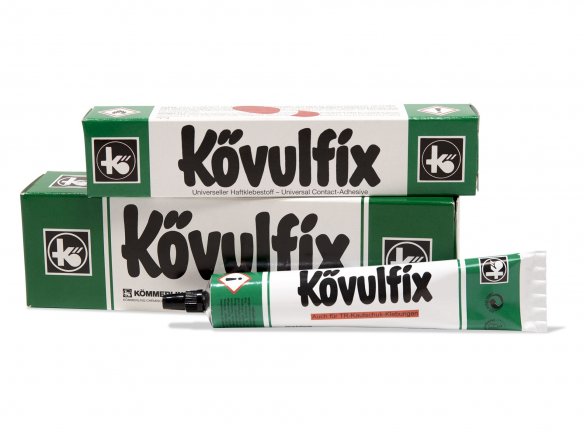 For neoprene, laminate, rubber, leather, cork, felt, hard PVC, soft foam, metal
Used professionally for the repair of shoes and neoprene
Achieves highest durability
Water resistant
Basis

polychloroprene, contains solvent

Colour

amber

Viscosity

low viscosity, 1600 mPa.s

Cured consistency

flexible, impact resistant

Density

0,83 g/cm³

Working time

10 - 90 minutes

Hazard warning

Xi irritant, F highly inflammable, N environmental hazard
Kövulfix is a contact glue containing solvents that attains the highest level of mechanical strength and is waterproof. It is especially good for the "combination" gluing of wood materials with laminate, rubber, leather, cork, felt, rigid PVC, flexible foam, metal and much more.
For polystyrene gluing jobs we recommend UHR POR; for PE and PP jobs we recommend PATTEX PLATIX and for soft PVC and imitation leather the UHU SOFT PVC REPAIR GLUE is the best choice.
Application examples:
For shoe soles, door and window seals (weather strips), rainwear, PU foam boards, carpet backs, etc.
Processing temperature:
The temperature of the glue and the intended materials should not be under +18°C. Adhesive that has become cold should be tempered for at least 3 days at temperatures between +25°C and +35°C and stirred well before use.
Preparatory work:
When possible your materials should be carefully roughed up. The area to be glued must be clean, dry and free of dust and grease.
Gluing tips:
Kövulfix should be applied evenly to both contact surfaces. Absorbent materials should receive two coats. After at least 10 minutes waiting time, strongly press the two surfaces together. The amount of pressure is governed by the hardness of your material, the amount of time for continuing the pressure is, as a rule, 8 to 15 seconds. If the glue has been allowed to dry too long it can be revived by heating it to +50°C, at which time your two surfaces should be immediately pressed together as described above.
Kövulfix leather & neoprene contact glue
2 Variants