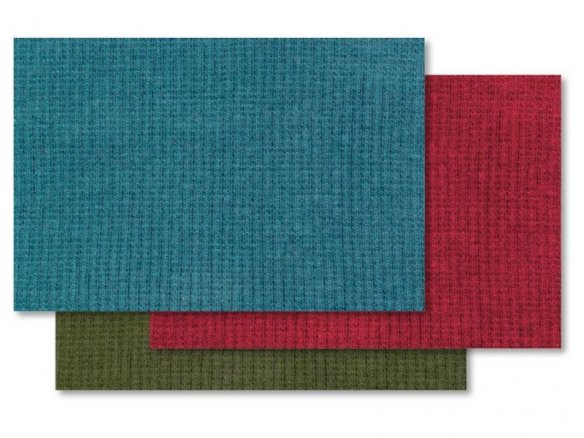 90% cotton, 10% elastane, bi-elastic, machine washable up to 40 °C, effective width ca. 1000 mm
This elastic cuff fabric (ribbing) is knitted as a tube and when lying flat has a width of about 500 mm. If you cut the tube along the side and open it up the effective width becomes 1000 mm. The 10% elastane serves to keep the ribbed cotton knit dimensionally stable and makes the fabric somewhat elastic lengthwise. Such ribbing can not only be used making tight cuffs on sleeves, collars, skirts and elastic leg gathers but also for complete articles of clothing like T-shirts, tube dresses and skirts, caps and a plethora of other possibilities. The pleasant cotton is not scratchy, making it especially suitable for children's clothing.
For sewing work the best implement to use is a Jersey needle whose blunt point will not harm the mesh structure of the fabric. In order to prevent the tearing of a seam upon stretching, we recommend that you use a zigzag or triple stitch or, alternatively, to work on an overlock machine.
Care tip:
This fabric can be machine washed up to 40 °C at a normal setting.
Do not iron!
Knit cuff fabric (ribbing)
12 Variants