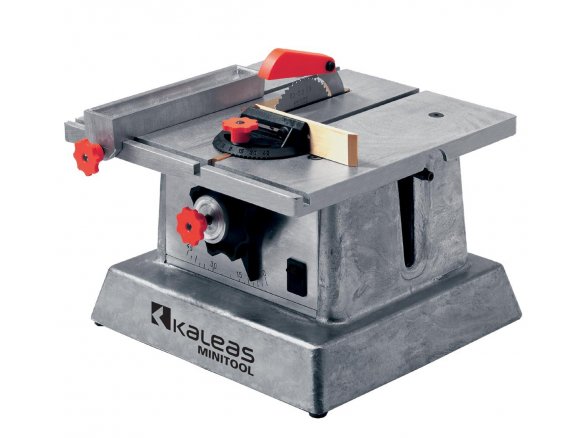 sturdy die-cast aluminium construction, table is 220 x 210 mm, collar on the side for grinding disc, saw blade adjustable for height (0 - 15 mm) and able to be tilted (90° - 45°), recepticle for standard commercial saw blades ø 63 mm with bore hole ø 16 mm, connection piece and adapter for a vacuum cleaner power supply: 12 V revolutions per minute: 700 - 6,000 rpm output: 100 - 140 W cutting depth: 0 - 15 mm (saw blade is completely retractable) cutting speed: 140 - 1,200 m/minute Weight: 3.0 kg accessories with delivery: coarse cross-toothed saw blade, 36 teeth, th = 0.78 mm, cutting width = 1.6 mm, for wood and plastic; parallel guide rail, mitre gauge with graduation, tensioning pin, allen key
This Kaleas table circular saw is a very solid machine at a very reasonable price and it is one that can also be used for professional purposes. The good selection of saw blades allow you to achieve excellent results when cutting wood, non-ferrous metals, plastics, and circuit boards as well as fibreglass and carbon fibre reinforced plastics.
This circular saw can be made even better if you enlarge the worktable as a do-it-yourself project. Tip: Adding one drop of detergent on the saw blade when cutting acrylic glass will provide you with clean, practically polished, cuts. In order to prevent your workpiece from getting stuck between the parallel fence and the saw blade whereby the toothed belt ends up spinning on the shaft, this precaution is recommended: place a skid block (e.g. a piece of square brass rod) between the workpiece and the fence. If, however, your toothed belt becomes worn out anyway, you can order a replacement at Modulor (see: Accessories).
This table circular saw is practically identical in construction to the model from the company Böhler. This means that the high quality of this well-engineered tool is practically guaranteed! Note: replacement parts and accessories from Böhler can also be used with this machine.
Kaleas table circular saw, w/o transformer, including accessories
Note
Please note: We do indeed include various accessories with this table circular saw but not the power supply unit that is necessary for it to work (see: HIGH POWER TRANSFORMERIII). The 10 mm hex key (Allen wrench) required for releasing the saw blade is also not included. Please note: this is a left-hand thread! (remove by turning CLOCKWISE)