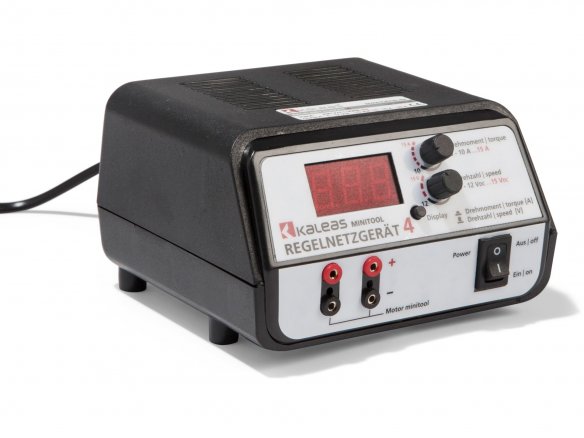 Constant output power
High torque (even at low speeds)
Active air cooling
LED display
Input voltage

230 V, 50/60 Hz

Output voltage

5 – 12 V/DC, short-term 15 V

Output current

0 – 10 A, short-term 15 A

Output power

120 W constant, 180 W short-term

Display

LED for current and voltage, switchable

Protection class

II

Weight

0.74 kg
Kaleas machines (formerly FA Böhler), like the Kaleas table circular saw, are powered by 12 volts of DC power. To operate them, they need a transformer that converts the available AC voltage into the required DC voltage.
The High Power Transformer 4 from Kaleas is not only suitable for operating Kaleas machines but is also available as a power station for other common small machine brands.
The maximum power of the machine to be operated is continuously adjusted via the manual torque control. Even at the lowest speeds, the transformer provides maximum power to the power tool, i.e., full power even at low speed. The torque (current) controller can also be used to set the power or ampere of the devices. If, for example, you reduce the current (ampere), the engine will stop rather than potentially damaging a workpiece with too much force. The display switch can be used to display either the voltage (V = Volt) or the current (A = Ampere) on the device.
The Kaleas transformer and Kaleas tools are primarily intended for use inside the home. When working outdoors, you must make sure that the equipment does not come into contact with moisture.
Kaleas high power transformer 4, IN: 230 V 50/60 Hz, OUT: 5 - 12 V/DC, 0 - 10 A