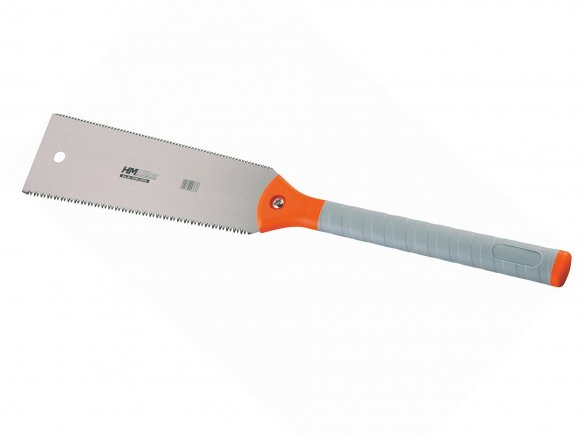 toothed on both sides (fine/coarse)
triple-ground trapezoidal tooth
hardened
Japanese saws not only look completely different but they function differently as well: they cut on the "pull" stroke as opposed to the "push" stroke found in Western saws. Advantages for today's woodworker: a blade made from thinner material and the pull stroke keeps the blade under "tension," resulting in a thinner, straighter kerf. That thinner blade and the particularly efficient teeth also mean that less strength is required when sawing and this makes it easier to control the cutting action than commonly used saws.
Blades with trapezoidal teeth are primarily intended for making cuts against the grain.  The reciprocally ground teeth (alternating sides) separate the wood fibres in a razor thin cut and thereby do not damage the surface.
The fine-toothed saw blades (16 teeth per inch) are primarily designed for cutting plasterboard, plastic tubes, plywood, bambus or branches. The coarse-toothed saw blades (7 teeth per inch) are best for cutting through square timber or also wet wood.
Japanese saws, 250 mm, teeth on both sides