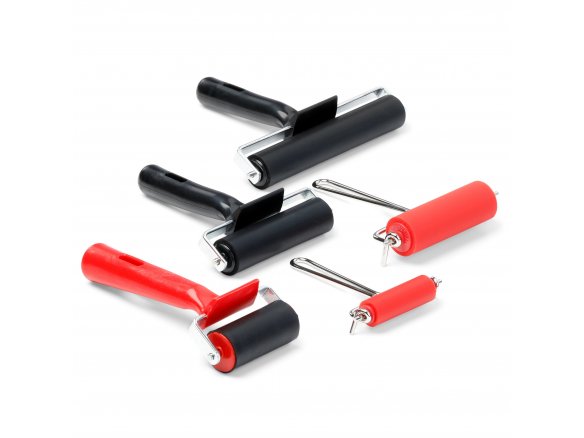 3 mm thick roller cover (4 mm for the 90 mm wide version) made of resistant, compressive elastic plastic; waterproof and conditionally oil-resistant plastic core, steel wire frame with supports to serve as a stand for keeping the roller off the ground when not in use, nickel-plated, weight is 44 or 88 (90 mm version) grams
The small inking rollers are especially good for applying ink on a printing block and can also be used as a pressure roller (after being cleaned) for small surface area linocut or woodcut prints. The washable roll is easy to remove from the wire holder and therefore very easy to clean. This handy and reasonably priced version is perfect for linocut beginners, especially children learning linocut printing in school.
In order to apply ink to a printing block, you should squeeze about 2 or 3 cm of ink on an inking sheet (e.g. POLYSTYRENE or glass) and roll out the roller until the same amount of ink is on the inking sheet as on the roller. When the roller is thus moistened it can be used to apply the ink to the raised areas of the printing block.
Inking roller (brayer)
5 Variants