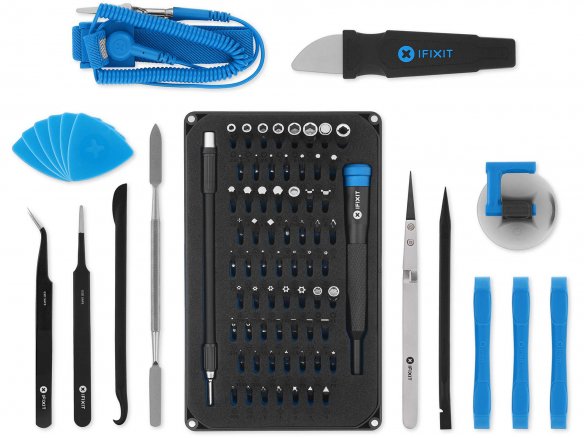 70 tools
for dismantling laptops, smartphones and flux capacitors
64 Bit Driver Kit

all the bits needed for repairs on small electronics

Anti-Static Wrist Strap

protection for circuits against static electricity

Small Suction Handle

suction handle for holding onto things lacking handles

3x iFixit Opening Tool

soft plastic prying tools

6x iFixit Opening Picks

thin prying tool for opening electronic devices

Nylon Tipped Reverse Tweezers

to elevate and hold your work

Angled ESD Tweezers

ESD-safe, feature teeth for tougher grip

Blunt ESD Tweezers

ESD-safe, feature teeth for tougher grip

Standard Spudger

tough antistatic tool for a variety of purposes

Halberd Spudger

features a hook for scooping, scraping, pulling, and guiding.ESD-safe.

Metal Spudger

for more powerful prying, scraping, probing, and poking action

Jimmy

handy tool for "Jimmy"ing open electronics

Magnetic Pad

Holds tiny screws and parts during repairs

Tool Roll

Durable and compact
This comprehensive set contains 70 - count ´em SEVENTY - tools for taking apart laptops, smartphones and flux capacitors! (see: Back to the Future)
The selection of the tools is based on repair data from thousands of repair manuals.
The iFixit Pro Tech Toolkit has become an industry standard among specialists and companies in the fields of PC, laptop and smartphone repair.
The plastic opening tools (spudgers) are made of very soft plastic in order to avoid damaging the device being worked on. They are so soft that they can probably only be used once or twice (i.e. disposable)!
iFixit Pro Tech Toolkit, set for working on PCs, cellphones and tablets