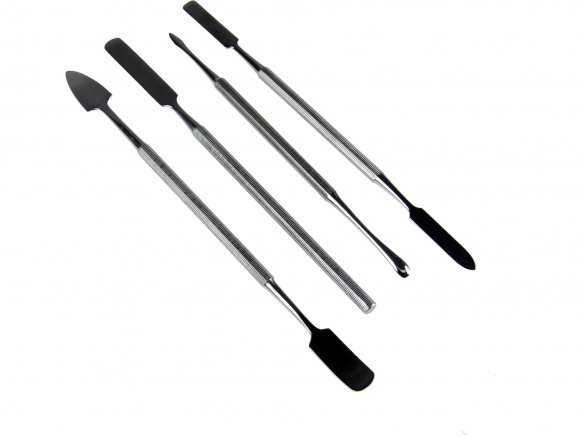 4 tools
7 differently shaped tips
for leverage, chiselling, shaving and opening
For the finest modelling work
Material

chromed stainless steel

Length

155 - 185 mm
Every handyman - or perhaps even handywoman - knows that moment when you are stuck because the right tool is nowhere to be found.
Be armed against this moment with our collection of three robust spudgers. Textured handles with exactly the right length provide ease of use and the correct leverage effect. The well apportioned spring strength makes it possible to lever off components or to remove glued strips.
Please be careful using them. Because of the strong materials and the highly effective force application there is always a danger of scratching components or damaging them in other ways. In the case of sensitive components a conventional spudger made of plastic is certainly the better choice if it is strong enough for the job.
iFixit Metal Spudger Set, set of 4, 7 diff. tips,155-185 mm, stainless steel